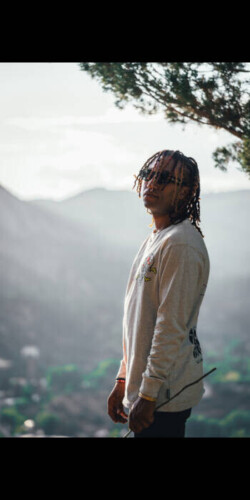 The music industry has always thrived on trends. Many new artists often bank upon these trends to gain some of the limelight but eventually fade away after momentary fame. Only a few artists who manage to go against the flow and stay true to themselves survive this extremely competitive space, earning an audience who love them for their talent, not as an imitation of a trend. Hip-hop artist and violinist Alex Blocker is a fearless musician from a fresh crop of artists who is unapologetically real with his music. His unique approach to genres has helped him stand out in the industry. 
Alex is often referred to as a genre-blending artist because of his distinct musical style. He combines elements of R&B, hip-hop, and jazz to create music that is magic to the ears. Based in Colorado, Alex has been pushing boundaries in conventional hip-hop, introducing his own genre-fusing contemporary style. Alex has roots in Chicago, a city that's known for its diverse hip-hop culture. This explains his unusual take on the genre, not just reviving it but setting a new trend in hip-hop that many budding artists would love to follow. 
As an artist, producer, songwriter, and violinist, Alex has expressed musical ingenuity through his past releases. This includes the highly popular single "Good Luv," which always enthralls audiences at live shows and concerts. Following the popularity of this single, Alex later released a music video for "Good Luv," which replicated the song's success, earning thousands of streams on digital music platforms. Many of Alex's subsequent songs, like "A Rose from the North," "Zoom Meeting," and more, became massive hits. 
Ending his songs with a twist that leaves the audience craving more is Alex's signature style. He loves to create an enigma around his music to keep his fans engrossed. Alex's mastery of sound is evident in how he channels his energy into rhythms. With beats looming on the horizon, Alex intrigues listeners by infusing violin tunes into the backdrop. This creates infectious melodies that will make everyone move. 
Starting his career by producing and recording at YouMedia, an urban creative space in Chicago, Alex has now become a recognized name in the live hip-hop scene across the US. Other alums from YouMedia include top artists like Chance The Rapper, Noname, and many more, and Alex is likely to join this league with his unique hip-hop style. He has already shared stages with A-list performers like Gramatik, Boombox, Nappy Roots, and Masta Ace, to name a few. Alex has also produced and written songs for many big artists in the industry. 
Rolling out incredible music with every new release has seen Alex featured in famous publications and media outlets. He has been on the cover of Westword magazine in the Denver Museum of Contemporary Art. During his summer tour, Alex performed in several states across the US, including California, Arizona, Utah, and Colorado. Being unapologetically original without a label or boxes has been challenging for Alex, but he has overcome it through his passion for music, earning a fan base who loves his unique style. 
Instead of building a career as a singer, songwriter, or artist, Alex Blocker wants to grow as a brand in the hip-hop scene. He has plans to diversify his career, start a venture in fashion and design, and curate thought-provoking and nuanced pieces for a niche customer base. He also dreams of touring the world, performing live in different corners of the world.
© 2022, Brxton. All rights reserved.