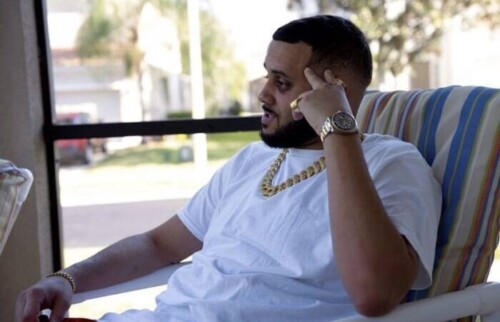 ​​DaBwoi Fane is a rapper who is defined by raw talent and authenticity. The enigma is at the center of a new era in Hip Hop where he is carving out a new sound that already resonates with audiences across the globe. Born in Muskegon, MI Fane moved to Indianapolis to expand his brand and connect with more people in his industry.
Born Randall Seewald, Fanes journey in music is rooted in self discovery from the relatable reality for many of being defined by racial narratives of not being "White" enough or "Black" enough to fit in. He tells stories with his music that moves people to shift the narrative from maybe I can't, to maybe I will. He began writing poetry at an early age and found solace in music. He has honed his craft over the years as he fought his way out of poverty participating in every cypher, rap battle, and talent show he could find. DaBwoi Fane is influenced by greats such as Jay Z, Tupac, Lil Wayne, Juvenile, Master P, UGK, LL Cool J, and NWA.
Today he is not only an artist but also the Vice Present of Bank Talk Records where he is joined by other artist signed to his label. To Fane, music is an art form that is reflective of his experiences. He aims to deliver an experience to listeners that is both engaging and relatable. You can find lines in his music such as " I got four kids that's depending on me to go get it, they daddy a winner" that shares his story as a father. His music is really about everyday life and expressing himself.
DaBwoi Fane got signed to Game Face Records (an independent label in Indianapolis) in 2010 and went on to start his own record label, Bank Talk Records. His latest project dubbed "Maybe I Will" Is out now featuring appearances by Dj Khalid's We The Best/Epic Records artist Flipp Dinero, Bank Talk Records own 30.2much, VaeDay, & Trajik, which will connect with audiences on a deeper emotional level and remind listeners that "It's not on you, it's IN YOU".
DaBwoi Fane's music combines various elements and his ability to switch up his flow makes him a one-of-a-kind artist. His music is filled with relatable topics that are grounded in reality and maintains a very real and authentic feel that is encapsulated by an edgy and trendy modern sound.
His versatility allows him to integrate and accentuate his music across a plethora of well-known and niche genres. There is no doubt that DaBwoi Fane will have a profound effect on the industry with his multifaceted approach to music.
Follow Dabwoi Fane on Instagram:
https://instagram.com/dabwoi_fane?igshid=YmMyMTA2M2Y=
© 2022, Tedfuel. All rights reserved.