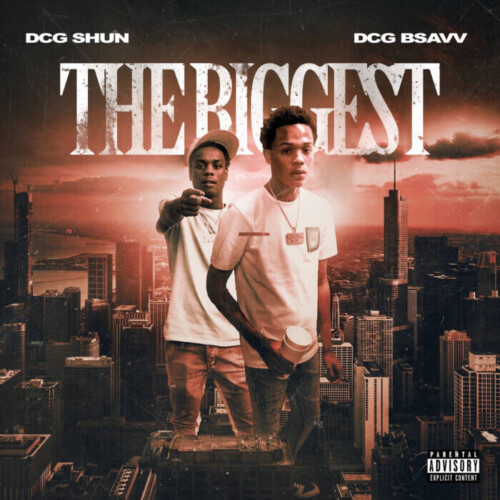 DCG Brothers, comprised of DCG Shun & DCG Bsavv, bring a refreshing dose of personality into the drill scene. Documenting their rise as it unfolds without shying away from the raw realities of the South Side streets that raised them, the DCG Brothers share their latest video single, "The Biggest." Over ominous synths weaved into acoustic strings and spattering kick drums, producer BWolf201's haunting instrumental provides a fitting canvas for the brothers' hushed, villainesque flow as they deliver their cautionary flexes: "My opps thinking it's playtime/I got some dice and I'm finna shake mine."
The video for "The Biggest" gives testament to the strength of the brothers' connection to the Windy City even as they continue to reach new heights with their music. Posted outside Chicago's United Center with a fleet of black SUVs, the brothers keep their community close–including fellow Chitown riser PGF Nuk, who makes a cameo appearance. As the video cuts to footage of the duo bringing their infectious energy to the Summer Smash festival stage, they jump in the crowd to take videos with fans while performing and stop to capture a quick cameo from fellow Chicago native, Lil Zay Osama, showing their immutable love for the city
Earlier this year, the DCG Brothers shared Jungle Life, an accomplished, 14-track mixtape that established the duo as one of the most exciting acts in their hometown. Home to the hit single "Stomp," featuring Chicago legend G Herbo (1.8 million YouTube views), Jungle Life takes a raw, unfiltered look at the group's home neighborhood, while showcasing the percolating chemistry that helped them escape their circumstances. "Growing up in a real jungle around savage and seeing crazy things, basically meeting different types of people and associating them with animals," say the DCG BROTHERS. "RATS, SNAKES, GORILLAS, & EVERYDAY IT'S A SURVIVAL IN THE JUNGLE." Featuring additional appearances from BIG30, B-Lovee, and frequent collaborator Msavv, Jungle Life has earned nearly 15 million streams since its release and it is available everywhere via No More Heroes/Atlantic Records.
With much more music, and plenty more creative videos, and with the backing of No More Heroes and Atlantic Records, there's no limit to the heights the DCG BROTHERS will reach.
© 2022, Seth "Digital Crates" Barmash. All rights reserved.