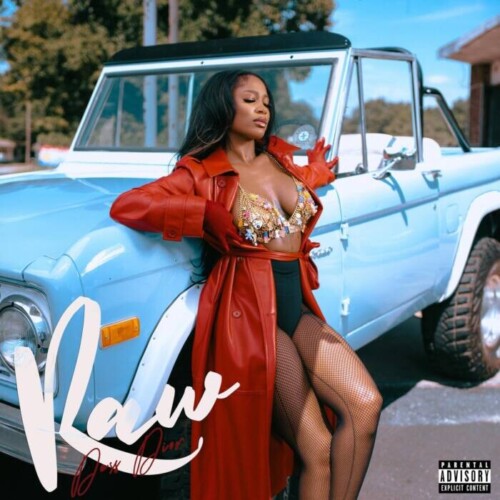 Bold and braggadocious hip-hop rising star Dess Dior shares her new EP "RAW." "Really I'm that bitch," Dior snarls on lead single "Nann Hoe": it's not a boast, it's simply a declaration of truth. The song finds her counting down the things her competition doesn't know, and it's just about everything. Going toe to toe with Dess is a losing game, and here she simply makes it clearer than ever.
Earlier this week, Dess shared the music video for EP single "It B*tch Freestyle." Directed by Caleb Jermaine, the clip features a cameo from Saucy Santana and features Dess in the studio flexing her skills and the fruits of her success. When she points to the camera it nearly feels she's calling you out personally, it practically stings. If nothing else, you can count on her for sheer honesty: "they say I'm too blunt, I'm just honest, I keep it a buck." "It B*tch Freestyle" bleeds the confidence she's been making her name on.
"Mood Board" reaches back for an Eazy-E reference with its intro before sliding into a modern, chest-thumping anthem, complete with Dior's whistles. "It better be a Rolls Royce, if we havin' car sex": Dior doesn't waste any time, she knows exactly what she wants and just how to get it. The beat sways around her, with Dess perfectly staying in the pocket.
"Rich and Raw" throttles back and forth with a revolving beat, the sort of soundscape Migos might have coasted over at their peak, but Dior makes the track entirely her own. Gradually, people enter chanting behind her, giving the feeling of royalty that Dess has already earned. "I'm sorry if I hurt your feelings, you can suck my dick," she declares in an almost offhand manner – this is her world, we're just lucky enough to live in it.
Pulling back from the raging energy for a moment, Dior slows it down for "BLOCKDT", with the track opening with a serene choir before Dess tears into a wayward lover, offering the perfect anthem for anyone who has reached the end of their rope with a partner.  With "Bottega" Dess is right back on her boastful grind: "I've been that bitch since I popped out, ask my momma." It's all about confidence – they know her where she's from – she neither has the time to waste or the need to.
No glorious rap romp is complete without some globe trotting, and "Paris" finds Dess "riding presidential through the Louvre", flooding the streets. "Think I'm the best, if you ask me." She makes it hard to argue with her. "Can't Blame You" finds her getting more serious for a moment, reflecting on the journey she's been, marveling at how her skills have brought her success while simultaneously finding that she needs more than the money and the glory, she needs that special someone. For all the nonsense her lover has pulled, she's still stuck on them, and just wants things to come together. Much like the project overall, it's impossible not to root for her. Dess Dior has come to win.
© 2022, Seth "Digital Crates" Barmash. All rights reserved.