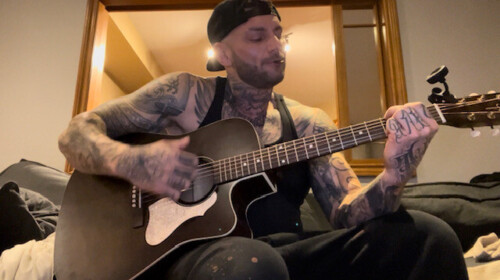 We got to talk with DJ JoeMammoth to ask what drives his passion for music and whos been instrumental in his success as an Artist/DJ!
DJ JoeMammoth, you're on a tear right now! What's next for you?

Although I do enjoy performing on my own, I would love to do a B2B (back-to-
back) set with more of the top DJ's in the industry at an EDM festival/rave. Getting to integrate my
sets with another DJ's set would be legendary! And, what better place to do one than on
the BIG stage in front of tens of thousands EDM festival goers!
Can you tell us why you think people are less likely to survive when they lack passion for the craft?

I think people are less likely to survive when they lack
passion for their craft because without passion there is no drive to pursue a greater
value! Passion is underrated in many entrepreneurs. Some may hit, what they may think is
the "top", but not understand that there is no such thing as being at the "top".
Constantly growing as an individual and creative, building a foundation, going
through many obstacles to achieve a higher potential, and constantly willing to
expand your knowledge and creativity for you and your craft. Now that, that is
passion!
Can you explain how your passion for what you do helped push your brand to
the limelight?

The passion for creating music has been in me without me knowing.
I was able to create something moving that others can listen to, feel and evoke emotion.
Being able to make others feel a certain feeling in such a short amount of time is very powerful to me.
Growing up I was given little but I saw it as a lot. I had
only 2 subscribers listening to my music when I started, and I made the best out of it,
producing with a heart full of passion, even if there was a smaller amount of people
constantly listening… Ego cannot be overpowered by passion. Passion is needed
to succeed. Passion is heard in my music and performances in front of crowds.
I also think that being consistent and never giving up is the true secret to success.
I've always believed that you can't beat someone that never gives up!
Are there any tips you have for people who are worried that their passions may
not be profitable or cared for?
A tip I have for people who are worried that their passions may be not
profitable or cared for is… Just go for it! If it is in your soul to create music, to be an
entrepreneur, and your heart constantly leans towards creating music, do it.
Do it for you, not for others. When you start creating music for yourself, others feel what you
have created and will continue to support you. Realistically, it is difficult at first. There
are many DJs around the world with the same passion as you but, no two musicians
sound the same. Many won't understand your decision at first due to the profit side of
things, but you need to understand where you can be and what you can achieve.
You will be shocked with the outcome.
Have people ever referred to you as a self-made success? 
In what way is that true or not true?
People do refer to me as a 'self-made success. They could not be more
wrong. Although I am a sole entrepreneur and owner of my DJ career, I have had many
people along the journey who made me who I am today. Many people do not see the
behind-the-scenes, they see the finished product. Without everyone who influenced
my life to this date, there would have never been a JoeMammoth. Like they say, "it
takes a village".
Listen to DJ Joe Mammoth on Spotify now!
Follow Joe Mammoth on Instagram 
© 2022, Astroavi. All rights reserved.