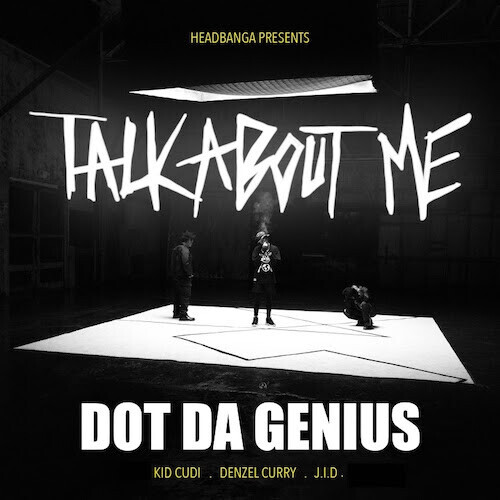 Multi-platinum, Grammy-nominated producer Dot da Genius has just shared his new single "Talk About Me" (feat. Kid Cudi, Denzel Curry & JID) with a Lyrical Lemonade directed visual. The bolstering track features a punchy trio of verses from Cudi, Denzel Curry & JID over an ethereal and psychedelic instrumental courtesy of Dot da Genius. The Lyrical Lemonade visual features a mirage of animated shots including Cudi wrapped in a Louis Vuitton space suit performing in a mirror-laced room, Denzel Curry & JID rapping in a black & white wonderland, and Dot da Genius running the whole show in an impressive control room. The visual also marks the first collaboration between Lyrical Lemonade and Kid Cudi––satisfying an all-time career goal for director Cole Bennett. Dot da Genius has been the mastermind behind some of hip-hop's most transformative moments of late, and now with the help of his long-time collaborator Kid Cudi, Denzel Curry, JID & Cole Bennett––he's ready to show the world his own distinct creative vision.
"I've been in music for a long time, right now I'm understanding what phase and era I'm entering. It feels good to finally make the decisions, decide what looks good, and just get my vision out to the people that supported me all this time. There are so many kids out there that have supported me, so I want to give them something to hold on to." – Dot da Genius
Dot da Genius is fresh off executive producing the third chapter of Kid Cudi's coveted Man on The Moon series released in 2020 and scoring the soundtrack to Cudi's upcoming animated Netflix series Entergalactic premiering in September. "Talk About Me" has been in the works since early 2019 when Denzel Curry & Dot met for the first time in a recording session at Dot's studio, The Brewery Recording Studio. Denzel and Dot's creative relationship continued, with Dot producing a pair of tracks on Denzel's 2022 album Melt My Eyez See Your Future. In 2020, Dot was playing records for Cudi in his studio and after hearing "Talk About Me", Cudi was enthralled by the track and immediately decided to add a verse to it. Dot wanted to add an additional rapper on the track and sought to have an all-star lyricist on "Talk About Me", so JID was a natural choice for him. Denzel Curry personally looped in Cole Bennett to head the video for the track––with Lyrical Lemonade adding the experimental and vibrant visuals to pair with the star-studded collaboration.
© 2022, Seth "Digital Crates" Barmash. All rights reserved.