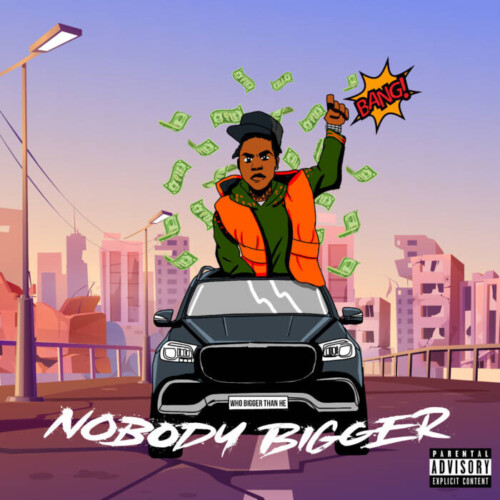 Continuing a breakout year, buzzing Bronx drill rapper Dougie B unveils his anxiously awaited new mixtape Nobody Bigger. 
It boasts 14 fierce, focused, and fiery tracks, cementing Dougie B as a proven New York phenomenon. Among many highlights, he serves up a street anthem with B-Lovee on "Turnt," while "Underground" sees him recruit a cohort of rising talent, namely Luisss, KA$HDAMI, midwxst, and Yvngchris. His own audacious and elastic wordplay powers "Keep It 100." Then, there's "Forever On That," which only assures his place as a Bronx powerhouse at the forefront of the culture right now.
Building up for this major moment, Dougie B has consistently dropped new songs during this Fall season. He notably bulldozed the way for Nobody Bigger with "Spinnin" [feat. B-Lovee & Cordae]. Paying homage to its iconic sample "Ridin Spinners" by Three 6 Mafia, this song finds GRAMMY nominated lyricist Cordae stepping into their world and he does not disappoint by unleashing an aggressive flow with in your face boasts.
Other recent drops include "Keep It 100" which arrived as a worthy follow-up to lyrical onslaught "Mad Max" featuring TG Crippy. This came  on the heels of his intense and infectious single and video "Wreck" with Yagi B. The thrilling music video matched the energy as the duo and their crew mobbed through a New York City playground performing their signature "geeking" dance moves.
Piling up tens of millions of streams, he made waves on Kay Flock's viral "Shake it" [feat. Cardi B, Dougie B, & Bory300] which earned his Billboard Hot 100 debut.
"I'm Back" and "Forever On That" finally made their way to retail stores. He initially teased the songs on YouTube, inciting a groundswell of excitement in the process. The hard-hitting and hypnotic "Forever On That" surpassed 6 million views during its initial upload on Kay Flock's YouTube Channel and soared to #1 on YouTube "Trending." Maintaining this momentum, the instantly irresistible "I'm Back" also vaulted to #7 on "Trending." The two-pack illuminates the strength of his airtight flow and knack for a knockout hook. These songs affirm Dougie B as one of the hottest rising stars in New York right now.
© 2022, Seth "Digital Crates" Barmash. All rights reserved.