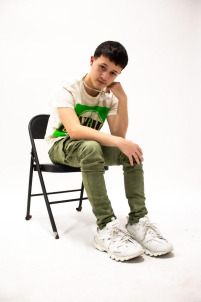 Dominic Peyreferry known as "Drizzy P", born on March 15, 2002 in Philadelphia, is no stranger to music. Drizzy P grew up in Broomall, a small town outside of Philadelphia. He credits his mother Nicole for laying the foundation for his love of music. It was her affinity for music, and her massive CD collection that helped spark the fire in Drizzy P. It wasn't until Drizzy P's freshman year of high-school that his close-friend Ross received music equipment for a Christmas gift, this sparked something amazing.
This combination of Drizzy P's love for music and his friend's new found equipment was the beginning of something special. The countless nights in Ross's basement started to pay off. It wasn't until Drizzy P's senior year of High School in 2020, when he decided to take a chance on himself and message his soon to be
manager/business partner David Appolon known as "Geedy". Since the two met, they were able to create over Five hundred records and at least thirty were with the
living legend Lil Wayne.
It was this connection with Geedy that within 2 years helped catapult Drizzy P from Broomall Pa, to performing on the big stage with Lil Wayne in Los Angeles, California. It was the President and CEO of young money records Mack Maine, and Lil Wayne that immediately took a liking to the young star. Mack Maine and Lil Wayne wasted no time in making the decisions to sign Drizzy P. With signing to his idol Lil Wayne, this makes Drizzy P the NEWEST MEMBER OF THE YOUNG MONEY FAMILY.
Drizzy P will be dropping his new single "All That I Need" next Tuesday 12/6. He is one of the latest signees to Lil Wayne's, "Young Money Records" roster and has a lyrical flow that can't be touched.  Most recently, Drizzy P was featured on the rap platform, Bars On I-95 for a Young Money freestyle cypher.
© 2022, Seth "Digital Crates" Barmash. All rights reserved.