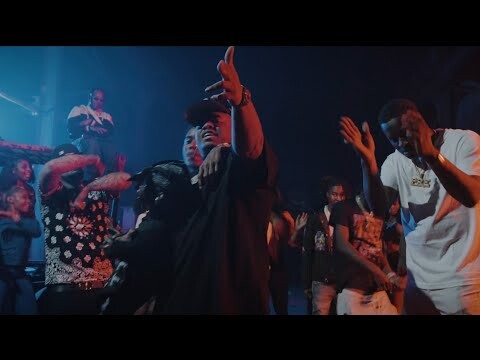 SNUPE BANDZ and PaperRoute Woo specialize in diamond-tough Memphis music designed to appeal to the rawest steppers in their city. Teaming up with a fellow Memphis rhymer for a fiery new video, SNUPE and Woo share "Pop Out," a new music video. Dominated by a low-note piano bassline and appealingly distorted blasts of synth, the three emcees strut their stuff and display their distinct personalities. Woo takes aim at Instagram hustlers who wilt when they see a real one in the streets, SNUPE chronicles his rise from the block to the big time, and Duke Deuce brings a new energy with his triplet flows and emphatic ad-libs. In the video, the two Paper Route Empire rappers and the Quality Control crunkstar post up in a dimly-lit corner of Memphis, hosting an unforgettable function with beautiful women, fearsome pit bulls, and "Deucifer," Duke Deuce's fearsome ventriloquist dummy.
Following up the recent video for "When I'm Bored," "Pop Out" is a highlight from Boyz N The Hood, the recently released mixtape by SNUPE Bandz and PaperRoute Woo. Showcasing their complimentary styles, with SNUPE as the effortlessly high-flying stunner and Woo as the domineering hard-nosed tactician, Boyz N The Hood is a potent introduction to the duo, who've been standouts in the Memphis scene for years. With high-energy features from Arkansas' own Bankroll Freddie and Duke Deuce, Boyz N The Hood is available everywhere now via Paper Route Empire.
SNUPE BANDZ and PaperRoute Woo have a long history of collaborations, dating back to 2020's "In My Bag" and continuing through last year's "Pop Out," which drew 1.8 million YouTube views. Both SNUPE and Woo joined their mentor Young Dolph on "Nothing To Me," a standout single from last year's PAPER ROUTE iLLUMINATi mixtape, generating over 9 million views, and they later took the stage in remembrance of their role model during a tribute set at Rolling Loud California 2021. The two Memphis natives made memorable appearances on Paper Route Empire Presents: Long Live Dolph, the recent PRE compilation tape: SNUPE shined on his solo showcase "I Know Why," and connected with Joddy Badass for the sensual "I Like," while Woo flashed his mastery of flow in "Fully Equipt."
© 2022, Seth "Digital Crates" Barmash. All rights reserved.