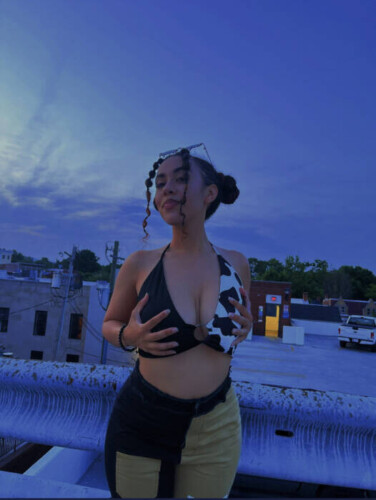 Elyvn, born in Rockville, Maryland. Raised in Frederick, Maryland . "Music runs everything in life" She says , without it the world would be a lot more bland. Elyvn wants to make the kind of music that makes you feel something. While using music as an outlet to explain what She is feeling as-well. But at first it was a challenge because she never believed in herself enough to do it. Elyvn said if she wasn't making music, She would probably still be looking for that thing that makes her feel how the music does. Elyvn says her sound is like a mixture of all genres.
"I'm a fan of everyone I genuinely enjoy. I'm not afraid to be that, and I think a lot of people are". Culturally, Her music is mostly known to be a mixture between many genres and therefore she is able to be enjoyed by all. "I think hiphop has opened its borders to now praise different types of sub genres" she states . Some of her music is heavily influenced by Aaliyah, Doja Cat, Lauryn hill, Sade, Smino, Aminé, Russ, just to name a few. Her DEBUT SINGLE "CUPID" released JULY 29 and you can hear in her bars, cadence and delivery that she is very serious about being culturally diverse in her music.Her mission is to touch & move people with her words to the point they can visualize what Shes saying as shes saying it. Elyvn says her main goal is to touch stages, sell out stadiums, all by doing what She loves with the people she loves
Instagram @elyvnmusix
"CUPID" OUT NOW
https://music.apple.com/us/album/cupid/1634635138?i=1634635141
© 2022, Logan. All rights reserved.