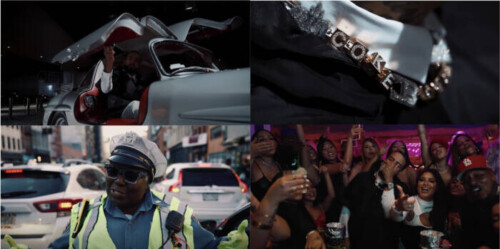 3x Grammy-nominated, Diamond-certified recording artist, humanitarian, and entrepreneur French Montana cruises the streets of New York in a Mercedes 300SL Gullwing sports car in new music video for "Yes I Do" via Coke Boys Records. Serving as the first song off of upcomingCB6: Money Heist Edition,the track continues Montana's legacy of capturing his luxurious lifestyle through snappy lyrics and contagious rhythms.

The "Yes I Do" visual showcases New York City's famed underground party scene and stunning views through dynamic shots of French riding around the streets and dancing in strobe-lit clubs. Montana raps in a conversational way, ironically responding to his own prompts, "Go-Go-Go and tell my opps I don't want no smoke (Yes, I do)." 

Montana is seen leaning out of his sports car, dancing, and living his best life throughout the music video. He incorporates recordings of New York natives who answer "Yes I Do" back to French Montana's prompts throughout the video. The style of the visual intertwines modern and nostalgic themes, flipping back and forth between a digital camera and a film camera.

About French Montana:

Moroccan-born, Bronx-raised rapper, French Montana, is a 3x Grammy Award-nominated, multi-platinum rapper, humanitarian influencer, and philanthropist, actively fighting for global healthcare efforts in Uganda as GLOBAL CITIZEN's first-ever rap ambassador. Some artists blur genres, but French Montana blurs borders. His inimitable fusion of classic East Coast rhymes, wavy pop swagger, and international ambition elevated him to the forefront of the game on a global scale. 


Over the years, French has built an indie empire with his Cocaine City imprint. Only speaking Arabic and French at a young age, his family immigrated to New York where he learned English and the language of hip-hop became a catalyst for him. He quickly embraced the culture, became enthralled with it, and began releasing the Cocaine City series of DVDs in 2002. He released his second studio album, Jungle Rules, in 2017 which peaked at number 3 on the Billboard charts and is now certified platinum. 4x platinum record "Unforgettable" (Featuring Swae Lee) was the lead single of this album sparking an international dance challenge, which led French to partner with Mama Hope and Global Citizen to improve one of their hospitals in Uganda.
© 2022, Seth "Digital Crates" Barmash. All rights reserved.