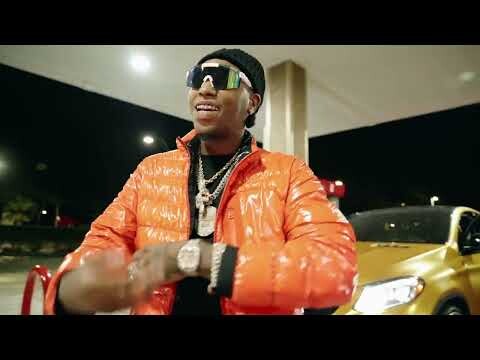 Central Florida rapper Goldenboy Countup has just announced his forthcoming EP Chill Golden, out 12/15, and shared a new video single "Don't Let Me". Goldenboy has catapulted himself into the national spotlight as the originator behind combining the modern sounds of the Sunshine State with heart-pounding, Detroit-inspired production––a trend that has become commonplace in FL. In the words of Rolling Stone, Goldenboy "sounds like a Michigan artist with a country drawl". Last week in a Twitter Spaces hosted by the New York Times along with Questlove, Goldenboy was mentioned as a prime example of how important regional hip-hop is to the musical landscape today. Earlier this month, COMPLEX named him among their '6 Rising Florida Rappers You Need To Know', describing him as "one of the most charismatic new rappers in the state" with a "sense of humor that cuts straight through his songs." On Chill Golden EP, Goldenboy further hones his craft and delivers a full-body project chock filled with transparent introspection, hilarious one-liners and cinematic tales of his life before fame. On the EP, Golden is joined by his longtime mentor Money Man, as well as Florida upstarts Jdot Breezy, GMK, and more. After a run of cohesive projects, homegrown anthems, and originating the Florda-Detroit musical connection, Goldenboy is establishing his stance as the Florida-rapper-to-know with his forthcoming EP, Chill Golden, out 12/15.
Goldenboy Countup has captured listeners with his kaleidoscope style by seamlessly meshing the sounds of Florida and Detroit––amounting to a swagger like none other. As noted by Pitchfork, "While Michigan rappers tend to blur the line between fact and fiction, Goldenboy Countup brings a realism to his rhymes that is distinct to Florida rap." After years of grinding in the regional Florida scene, Goldenboy broke out in 2020 with "Top" and after receiving a pair of glowing co-signs from Money Man and Rod Wave, Goldenboy only capitalized on this homegrown momentum by continuing to drop successful singles. In 2021, Goldenboy started his Chicken Man mixtape series with the release of Chicken Man & Chicken Man 2––the title being a clever nod to his longstanding nickname and also released IDN2 and Coach Golden 2. Goldenboy kicked off 2022 with the notable release of his newest project Golden Ticket, featuring the standout tracks "Condo" (feat. Money Man) and "Heavy Motion" (feat. Bfb Da Packman). Leading up to the release of Chicken Man 3, Goldenboy released a string of singles including "Im Ready", "Dinner Date" & "Superstar".
© 2022, Seth "Digital Crates" Barmash. All rights reserved.