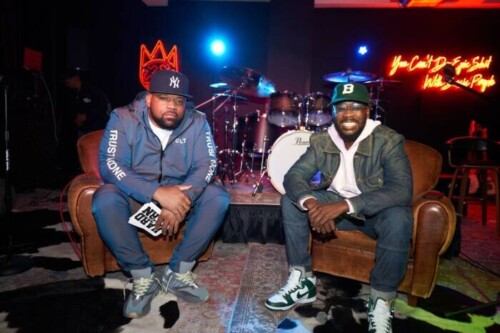 Daniel Vasquez
On Thursday, September 15th, the Hard2Earn podcast held a LIVE conversation in commemoration of the 15th anniversary of Kanye West's Graduation album at NYC's CULT LAB. Hosts Torae and Bonsu Thompson dissected, discussed and rated each of the classic album's 14 tracks In front of a studio audience.
Legendary music exec/A&R and Graduation Executive Producer Kyambo "Hip-Hop" Joshua joined the discussion as special guest. Hip Hop revealed that "Can't Tell Me Nothing" was originally a T.I. & Jeezy song. "Kanye flipped it, kept Jeezy's adlibs and the rest is history," said Hip Hop.
Notable guests included Sway Calloway (Shade45), Mr Mecc (My Expert Opinion), Tanya Tehanna, recording artist Jay Swishes, Jeff Rosenthal (itsthereal), Eric Rosenthal (itsthereal, Esteban Serrano( MTV), Jasmine Brito Def Jam, Amber Corrine (Amber Corrine Media), Logan Delgado (The Recording Academy), Ron Mills (Shade45 + Hip-Hop Nation), Keith Nelson (REVOLT), Kia Turner (OkayPlayer).
DJ Trauma provided the evening's beats. Cocktails were sponsored by Tanduay Rum.
© 2022, Seth "Digital Crates" Barmash. All rights reserved.