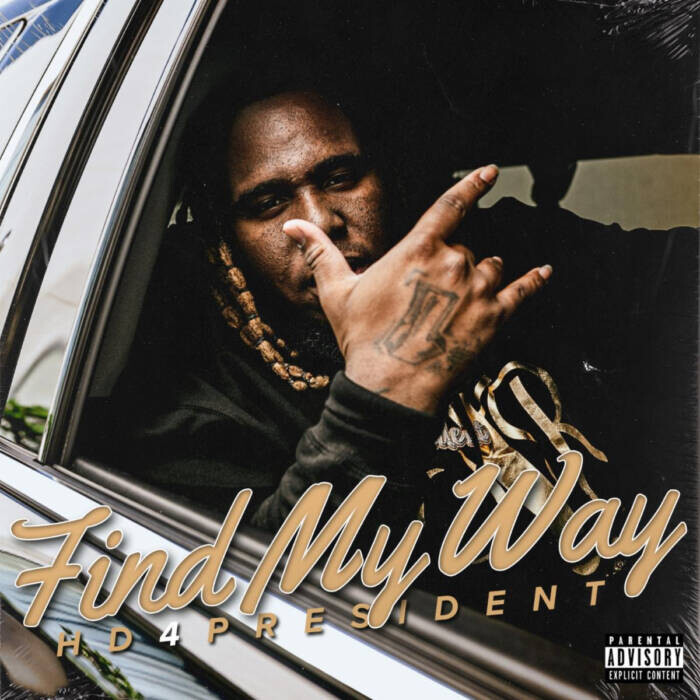 After stirring up buzz as an artist to watch this year, explosive Baton Rouge, Louisiana-based rapper HD4President reveals his anxiously awaited new album Find My Way today. Download and stream Find My Way HERE.
To celebrate the release, he just uncorked the music video for the latest single "Bussin." Watch the music video HERE. In the bold and bright visual, he flexes in one triumphant scene after the next, flashing jewelry and high fashion. His charisma practically pops off-screen
HD4President describes the overall vision best, "Dealing with the industry and understanding the ins and outs. I come from a different place, so it was hard to deal with a viral moment upfront. Wanted to find my way and put the work in to set the foundation"
HD4President shook up the internet with the lead single viral smash, "Touch Down 2 Cause Hell (Bow Bow Bow)." It reached the Top 30 at Urban Radio, piled up 20 million-plus streams, and attracted  2 Chainz & Fredo Bang for a high-profile remix. It also exploded on TikTok, inspiring nearly 2 million TikTok creations – including clips by Lizzo, Coi Leray, City Girls, Latto, Niecy Nash, Gabrielle Union, and Jessica Alba – and over two billion views on the platform.
About "Bussin," he said, "This song was made in California, and the check cleared that day. So, it felt like it was time to talk my shit. I already had the jewelry and the cars, so at the moment, I finally felt really up." He delivers clever bars such as, "Dripping like water I swear I'm too wavy," before igniting an unshakable hook. It might be the perfect victory lap anthem. It's raw, rich, and real—just like everything HD4President does.
He paved the way for the project with "Celebration" [feat. Mouse On Tha Track] and "One Mic," raking in numbers on streaming platforms and stirring excitement. As a whole, Find My Way shows the scope of his talents though. He bursts out of the gate on "Imma Dog" and locks into a lyrical crossfire with Icewear Vezzo on "Runnin Man." Then, there's the title track "Find My Way" where Yung Bleu rolls through with a showstopping cameo as HD4President shines. Elsewhere, "Soulja Slim Mentality" nods to the heyday of New Orleans hip-hop, and the finale "Real Rap" proudly lives up to its title with a powerhouse display of verbal force atop cinematic production.
In this exclusive interview with HipHopSince1987 Baton Rouge area artist HD4President talks to Digital Crates about his recent success and long-term career. Inspired by the Cash Money Records movement and the artist Juvenile he got into making music by learning their raps. He drew more inspiration from rap legends of the time including Soulja Slim, Big L, Jay Z, Nelly, Ja Rule, 50 Cent, and classics like the Temptations. He studied these artists and came up with his own unique sound blending lyrical raps with showmanship. He is separated from other artists by having authentic and relatable lyrics that everyone can appreciate. He has a modern sound that is both fun and real that is prime for international crossover. It is this mix of uptempo records and relatable lyrics that helped him go viral on Tik Tok and win over fans from the streets to the clubs.
He talks about his creative process and the importance of being self-sufficient in producing and recording himself. He collaborates with a strong team of creatives to make his music the best it can be and is mastering that process. He has been learning as he goes and adapting to the balance of making music, visuals, and focusing on social media. His new album "Find My Way" is proof that he put in the time and work and can now show the world his talent with confidence. He stayed motivated by seeing success from artists he knew like Kevin Gates, NBA Youngboy, and Fredo Bang. Once he dropped "Can't Stop Jiggin" it was his time to shine.
His new album is well-rounded with singles like "Celebration" and "One Mic" showcasing his range as an artist. Not just an artist, he is involved in every facet of his career from video treatments, to music production, and social media campaigns. He is humble and very thankful for his fanbase and supporters. Look for a major year from HD4President and he continues to tour, drop music, shoot videos, and crossover to stardom.
© 2022, Seth Barmash. All rights reserved.