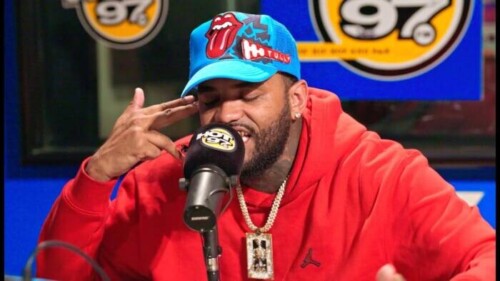 Two-time, Grammy-nominated hip-hop artist and entrepreneur Joyner Lucas appeared on Funkmaster Flex's renowned show and proceeded to freestyle backwards over the "Nas Is Like" beat and "Realest N****s" instrumental.
The concept for the one-of-a-kind freestyle delivery came after Flex challenged Joyner to execute the rare feat. Joyner previously dropped a video in 2015 called "Backwords," where he rapped the song's lyrics forward and backwards while playing basketball at the park. But the difference now is that Joyner recited the rhymes as a freestyle on Flex's renowned platform rather than a song.  
The backwards freestyle was the latest in a series of challenges that Flex has issued to a wide array of hip-hop artists, including Fabolous, Jadakiss, Busta Rhymes, Swizz Beatz, Benny The Butcher and Juelz Santana. At one point in the visual, Flex even broke his bracelet after pounding the table in excitement over Joyner's lyrical mastery. 
Joyner's freestyle also coincides with his upcoming "ADHD Tour," his cross-country, 18-stop tour (with West Coast rapper Symba as opener) that starts on Sept. 16 and wraps in Phoenix on Oct. 12 and also includes a set as part of Rolling Loud New York. 
He recently announced an innovative opportunity to give an aspiring artist from each stop of his tour the chance to perform on his headlining set. To secure a performance slot, artists will need to sign up for Joyner's startup platform Tully, upload the song they wish to perform on the "ADHD Tour" if selected and complete their Tully profile so Joyner can contact all winners directly to coordinate next steps. 
For Joyner, the goal is to provide emerging artists with a national platform to showcase their skills, expand their fanbase and receive exposure in front of music industry executives, marketing professionals, reporters and more. Prospective participants can go to https://www.tullyconnect.com/adhd-tour-opportunity to learn more. 
© 2022, Seth "Digital Crates" Barmash. All rights reserved.