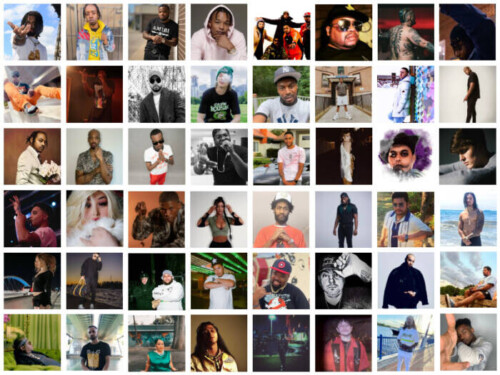 As the world continues to evolve, so does the sound of music. 2022 has shown us some of the most talented and diverse artists from around the world. Prominent entertainment companies and music professionals produced a list of the hottest upcoming artists to watch in 2022, highlighting their latest releases. Each of these artists possess their own unique sound and talent to bring to the audiences. In alphabetical order, presented below are artists you need to know this year. Read more on Verified Hustler Mag and USA Music Reviews.
2AM Ricky –  Living in color – better yet, in Hues, is none other than Atlanta's very own, 2AM Ricky! With Pride Month wrapping up, we would like to shine light on this new trailblazing talent as he is paving the way for others in the community. As an openly proud African-American transman, 2AM Ricky advocates for the community and has already left his imprint in music and on fans through his music. With each and every record relating a narrative backed by the visuals breathing fresh air into his audio, Ricky is a force to be reckoned with! IG: @2amRicky
Apryl – New Jersey inspirational singer Apryl has a musical gift destined for greatness. With an uplifting new single and video "It Was You", she wants the world to know how important it is to embark on a journey of self love and healing. As someone who uses music as a form of therapy, she is putting her best foot forward as an independent artist on the rise. IG: @pastorapryl
ATX Cypher – ATX Cypher & Nez Tha Villain link up to bring you "Whole Sack". The two have been making real noise in Austin, TX. With such a unique combination of personalities and lyricism, they've created a dope sound you haven't seen and heard a million times. ATX Cypher has established himself as one of the hottest upcoming artists in Texas. IG: @ATX_Cypher
Adjnamedroach – Adjnamedroach just released a hot new album "Never Go Back" ft. several hit singles with major artists Trick Daddy & Turk from the Hot Boys. He is one of the hottest upcoming rappers from the South. Follow him on IG for his latest music. IG: @Adjnamedroach
Audrie Powell – Audrie Powell is a singer/songwriter from Portland, OR who's been garnering national attention with her new single "Herself". With catchy melodic flows, and a great business mindset, we see her topping charts in coming months. With 65k+ followers and a rapidly growing fan base, Audrie Powell is definitely someone to watch. IG: @littlemisssunshineee
Ayo Sk3tch – AYO SK3TCH is an independent artist on the rise. He dropped a mixtape for his fans called "Loading…". The 12 track project is extremely versatile when it comes to covering the different genres within hip hop. AYO SK3TCH was able to display to his fans his wide range of sounds and influences within his music. He is talking about releasing his next project, which would be his first mixtape released on all platforms. AYO SK3TCH is definitely an artist we can see taking his accolades to the next level with no signs of slowing down. IG: @ayosk3tch
Brooke Williams – Brooke Williams returns with a new video titled "Happy 4 You". After releasing her first single, She was found on Spotify by Snafu Records co-founder Ankit Desai. Brooke has since written songs for artists AOA (Virgin), IV Jay (Atlantic), Tritonal, TVXQ! (SM Ent), Mishcatt, Shuba, KINGS and most recently, Big Gigantic. IG: @brookewilliams
Butta The Preacher – Award winning gospel rapper Butta The Preacher from Indiana is starting a new wave with "Crazy About God" ft. Shallon Tore" & Emceenice. He is taking the church to the streets with his witty punchlines and unique sound. He describes his new upcoming single as the Holy Anthem. C.A.G. will be a popular acronym. IG: @ButtaThePrecher
Cam Dolla – Cam Dolla is a rising Atlanta based rapper, song writer, engineer and producer. The talented artist has accumulated millions of views and streams on YouTube and Spotify. He has performed and worked with artists such as: Moneybagg Yo, Lil Baby, NBA Youngboy, 21 Savage, Foogiano, Pooh Sheisty, Gucci Mane, Lil Boosie and more. IG: @CamDolla_
CasinoATX – The temperature hasn't been the only thing blazing this summer. Austin based rapper CasinoATX has continued his impressive campaign run as he surges forward towards the much anticipated release of his album "The Street Nerd". In June, Casino and his label mates from CHHK went on a tour through the southwest alongside west coast hip-hop legend Abstract Rude. After a two week run, Casino returned home, and dropped Moonlight. A raunchy R&B romp and ode to his debaucherous younger days. Check it out now! @CasinoATX
Dark Hustlers Society – Mr. Mosberg Banga out of West Philadelphia is an entrepreneur and founder of the record label Hilltop Coalition Ent. Determined to put out good music as a solo artist he also took the initiative to keep his close friends/family alongside him along the way. Mr. Banga is one fourth of the group Dark Hustlaz Society. DHS is on a mission to bring the sound back to the hilltop, the mecca of Philadelphia hip-hop where it started. IG: @realmosbergbanga
Dnorri – Rising artist Dnorri North Carolina Native just released his newest single "Keep On", an upbeat tempo house, techno pop type vibe dance song, which encourages everybody to keep dancing, love more and to keep moving forward in life. IG: @Dnorri4Real
DrippDaDon – International rising superstar DrippDaDon has a genre bending sound that is destined to take over the world. With the shift toward streaming more international sounds, the cultural gap between African and American music is overlapping, opening the lane for music's next big star, DrippDaDon. Born in Zambia, DrippDaDon migrated to Ohio and found solace in music launching his career as a trilingual rapper, songwriter, and producer. IG: @DrippDaDon
Fatboyshaun and Ricky Mapes – Fatboyshaun and Ricky Mapes reunite for a small family reunion with their newest project Evil Twin. Their chemistry is unmatched to a level of perfection with this release. What was once teased as a possible matchup has now been confirmed as the heavy-hitting dynamic duo Shaun & Ricky – or Evil Twin. IG: @FatBoyShavn @RickyMapes
Flowgod – Flowgod is an artist from Brooklyn who has been making a name for himself all 2022. With the release of his new music video for his hit single "Warming Up" he has been gaining national attention. Growing up in a household with a single mother raising 3 children, and his father in jail, he battled through all adversity to become the man that he is today. He is a rising star, and someone you will hear a lot more about in coming months. IG: @Iamflowgod
Gafa Gamy – Gafa Gamy is a rising star from Apple Valley, Georgia. With his buzzing track "We Back Outside" he has been making waves across the country. Losing his mother at the early age of 12, Gafa Gamy turned to the streets where he found his passion for hip hop. With a raw vocal tone and dense lyrical ability, Gafa Gamy is someone to keep an eye on. IG: @gafagamy
Gage – Gage is an American hip hop artist from Washington, DC now based in Miami. As one of the preeminent up and coming indie artists, Gage embodies a casual grace and truth that is reflected in the music he makes. His remarkable talent has led to successful indie albums and shows with an ever growing fan base. Follow Gage for his latest releases. IG: @GageMusicX
Haze OPC – Haze OPC just released a hot new summer anthem titled "All White (Feeling Godly)". The release is his latest single off his upcoming album, starting a movement of its own. He's been hard at work delivering songs with his own unique style and flow showcasing his originality. Critics and music lovers around the world rave that he's 1 of 1 and can't wait to see what he delivers next. Look out for his new music dropping soon! IG: @mr_paper_chaser_opc
Helly Way – VA native by way of Delaware, Helly Way is one of the hottest rising rappers on the east coast. Coming from a long list of musicians, songwriters and singers, he is the grandson of legendary Jazz guitarist Samuel Herman. The artist recently released the first single off of his highly anticipated Scriptures EP titled "One Eye Open". Check it out now! IG: @hellyway24k
Jamie Lopez – Jamie Lopez is an online influencer and advocate for the plus-size community. She's the star of WE tv's Super Sized Salon and a recording artist with a bright future. Her new single Diva recently landed on the Top 40 chart on iTunes in the UK. The song is produced by 2020 Grammy contenders JTLR, the duo of MC Jonny T and Lyric Richardson. The DJ and club-friendly track is certainly an anthem for confident women; plus-size or otherwise. If Diva is an indication of what we have yet to hear from her forthcoming EP Queendom, listeners are going to be in for quite a treat. Diva is available on all streaming platforms and can be heard in the opening signature of the WE tv series "Super Sized Salon." IG: @OfficialJamieLopez
J.O Blanco – From Brooklyn, NY and now repping Staten Island comes the next Puerto Rican phenomenon combining lyricism, bravado and a ferocious delivery. This lyrical monster started writing/rapping at 12 and has a unique story to tell through his lyrics and showmanship. With the release of "Power", J.O puts a twist on the classic "Money, Power, & Respect", by The Lox. He doesn't disappoint by delivering bars on bars that'll have you replaying the track asking yourself "did he really say that?!". J.O Blanco is definitely one to watch! IG: @Jo_BlancoMusic
Jovaun – Dallas Texas has another up and coming star, and he goes by the name Jovaun. Making music to provide for his 2 daughters he has been making a name for himself across the U.S with the release of his new single "I Can't Lie". With incredible melody selection and catchy lyrics we see a lot more to come for this young artist. IG: @realjovaun
Kaarmaa – Kaarmaa is an up and coming hip hop artist from the Bay area. His new single "Sigma's Anthem (Freestyle)" is a hot track for the summer months. Taking a short hiatus from writing music, he is building up momentum for a major return to his craft! IG: @kaarmaa.777
Kemini – Rising Massachusetts artist Kemini blesses the hip hop world with two albums "Misfits and Rejects" and "Vendetta". He's creating new genres in hip hop and rocking a lot of crazy styles and fashion. Kemini has his own unique sound compared to dark rebellious music. What's next for Kemini is live shows, bigger branding and radio play. He's the founder of the MINIMafia movement. Look out for his new album "Black Jacker" dropping soon!! IG: @Keminimafia
Kev Dollaz – Hailing from the infamous Queensbridge Projects in New York, rapper Kev Dollaz draws from the rich history of a neighborhood where legendary MCs like Nas & Mobb Deep were raised. Featuring hard-hitting rhymes and a unique cadence, Kev enters the rap game as the next Queens native with a signature style, combining old school New York rhythm and flow with new school contemporary drill rap and trap. Look out for his new EP! IG: @KevDollaz
King Nova – New York based artist King Nova just dropped a hot new single "Money Running". This is the 3rd single released from his project "The Sellout". Talk about a club banger!!! Money running features King Nova's older brother J-Leach, both are very different artists, but a dynamic duo indeed. Pressure makes diamonds, King Nova says he's always been counted out, but feeling like the underdog only created a lyrical monster on the tracks. "I love when people doubt me because I show them what I'm capable of." IG: @KingNovaTheGoat
Kyle Malik – Kyle Malik is a Houston based artist who has been building a buzz over the last couple of years. He began recording in the studio at the early age of 2. With a major project titled "Conquering Me" on the horizon fans of this buzzing artist are eagerly awaiting his return. Kyle Malik is 100% an artist to keep an eye out for in the coming months. IG: @_kylemalik
Lil Gunk – Lil Gunk is San Diego's next hot rising artist taking over the underground hip hop scene in southern California. On June 2nd, 2020 he dropped his debut album titled "Bottom Feeders", all recorded in his car while battling with unemployment and homelessness. In 2021 his collective "Slatt House", was founded, housing many artists, producers, and brands. Gunk is working hard on his sophomore album "Black Out in Hollywood" dropping soon! IG: @gunk.exe
Magnus Mason – Magnus Mason is a rising star from Germany. With the release of his debut album "People Always Told Me" he has received co-signs from the likes of Summer Walker, and The Game. His catchy vibrato style makes you want to move your feet. With deep lyrics and a melodic edge this new album is nothing short of a masterpiece. IG: @magnusmason
Mj Gill – Mj Gill just dropped a hot new EP titled "Dark Sound". This is a true masterpiece, with songs for all music enthusiasts. With hit singles like Motivate, Shine, Sexy lil Mofo & Trust me, Mj Gill has shown growth in his music and sound. A must cop with no skips. IG: @MJGillOfficial
Notebook of Contempt – Notebook of Contempt Is a rising artist from Portland OR, who grew up in Vancouver Wa. His 14 song album "Baby Steps" has been receiving a lot of positive attention in the last couple months. Growing up playing instruments like the trombone, tuba and piano, he has always been musically inclined and now is taking his talent to the next level. Notebook of Contempt is an artist you will want to keep an eye on. IG: @notebook.contempt
PB Mogul – In today's hip hop scene true emcees are few and far between, Welcome, PB Mogul. An upcoming rapper, from Utica, NY, with the raw talent and skill set to shift the culture. A conceptual rapper illustrating stories of his hometown, PB Mogul is a standout who excels in authenticity, lyricism, and versatility. Check out his new single "My Way" now! IG: @PBMogul
Ra-Sool – Arizona's very own "Ra-Sool" is a rapper, producer and writer who has been creating buzz and helping shine light on the budding rap scene in Phoenix. With upbeat melodies mixed with an undeniable vibe that pours from each of his records, this independent artist is determined to carve out his own success to mainstream music stardom. IG: @rasoolthealpha
Renzo D Don – Renzo D Don is a rising hip hop artist from Michigan representing the Midwest and New York rap era. He first started writing music at 16 and recorded his first single at 22. Renzo continues to impress with his music and was discovered by Fat Joe and Jadakiss. He has his own style and will continue to grow as he keeps making great music. IG: @RenzoDDon
Ricci Payne – Ricci Payne is a buzzing artist from Montreal, Canada. His new single "Appreciate" has been gaining international attention, and has given his career a lot of new momentum. With true melodic ability, and a deep passion for his music Ricci Payne is someone to keep an eye on in the coming months. IG: @riccipayne
Saint – Saint is a rising star from Atlanta, GA who has been making music professionally for 4 years. After pursuing an acting career in Los Angeles, he decided music was more for him, and moved to Las Vegas to focus on his craft. Growing up singing in his parents church, he developed a passion for music and using his voice to better the world. IG: @saintdub
Sean Delaney – Sean Delaney is an independent artist, songwriter, marketing executive, OTT network owner, founder of his own clothing line "Sincerely Dedicated Co," and CEO of his music label "Rock Your Weird Ent". He's a serial entrepreneur who has approached his brand as a positive movement to try and help people understand the significance of being inspired, passionate and dedicated in life. The rapper has received numerous awards for his outstanding songwriting abilities, including the New York State Excellence Award for his lyrics on "Open Your Eyes". Sean Delaney is what the hip hop industry refers to as a true lyrical chameleon. Look out for his new album "Heart of A Lion" dropping soon! IG: @SeanDelaneyOfficial
Sydney Shea – Sydney Shea is a rising star based in Los Angeles. With a plan to release a major project this summer, fans are eagerly awaiting her return to the spotlight. Recently receiving the blue check on IG, Sydney continues to keep flourishing. IG: @iamsydneyshea
Swagger Dagger – Swagger Dagger is a young artist from New York who just dropped a new single "Self Progression", which is a perfect representation of his new mindset. The mix and production is impeccable, and is nothing like we have heard. New flows, new production choices, and a whole new energy from the New York King. IG: @johnnythadreamchaser
Swift0nDemand – Swift0nDemand is one of the hottest rising big names in entertainment. Also known as the celeb "Swift Star" from New York, who became a major leaguer on the VH1 series "Love and Hip Hop, New York." He also created the iconic music sound for celebrity superstar Cardi B. Look out for his single "Hit My Line" ft. Cardi B dropping soon! IG: @SwiftOnDemand
Swoosh God – Swoosh God is a NY native, born and raised in Valley Stream. He has 150k+ monthly listeners on Spotify and established a cult-following while remaining independent. Swoosh God is a cultural shapeshifter and iconic tastemaker, who originally made waves during the SoundCloud era. He was crowned by the underground as a future star. IG: @swooshgod
Tony $huffle – Tony $huffle is an independent artist from Iowa. Check out his new hit single "Foreigns". This one is a vibe! Follow him on IG for his latest releases. IG: @TShuffle_Wols
Tristan – 21 year-old Atlanta native Tristan began playing drums at the age of 8, and by the end of high school had already dived head first into producing and recording. After moving to Los Angeles he has found himself in situations he used to only dream of. He's now the tour drummer for BabyJake and performing his own shows. Check out "Nomad" now. IG: @Tristan.Tgh
Tragically Magic – Hailing from Massachusetts, Tragically Magic drops off "The Limit". The artist, who suffered numerous life-threatening injuries, adopted the fitting stage-name Tragically Magic. He began using music to draw audiences through the darkness, into the light. With a revolutionary approach to the current music culture, he strides forward, bringing audiences out of low places, inspiring hope, and encouraging resilience. IG: @TheTragicallyMagic
Twø Wrøngs – Twø Wrøngs is one of the next stars to come out of the Portland music scene. His grungy melodic music has been building momentum all year. With a lot of new music on the horizon, fans of this young star are eagerly awaiting his return. It is rare to find an artist with as much passion for their craft as Twø Wrøngs. IG: @twowrxngz
Yung Hen – Yung Hen is a rising artist who first started memorizing other rap songs, then in high school began to write his own raps. He was inspired by Eminem, Kendrick Lamar, and Kanye west. Yung Hen recorded his first song on a usb mic in college, and the rest is history. He now has 200k+ streams on all platforms. Check out his new single "Old McDonald", which is an energetic song that is a remix of a children's nursery rhyme. IG: @YungHxn
© 2022, Tedfuel. All rights reserved.