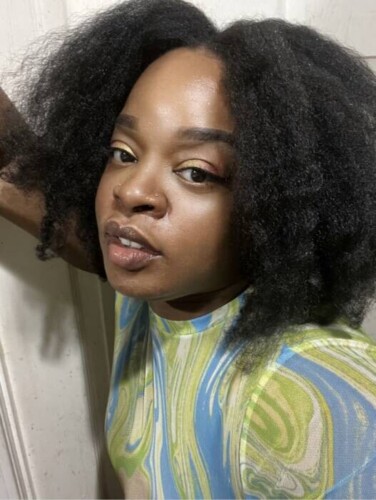 Name – Quachavious Ellison
Stage name – Qnova
Website – https://www.qnova.website/
Where did you grow up?
South East Atlanta, GA
Where are you from?
South East Atlanta, GA
Where do you see yourself in the next five years?
In the next five years, I see myself mainstream as a music artist 
Your Bio 1-2 Paragraph bio
Qnova, (Quachavious Ellison), is an American artist from Atlanta, Georgia who is flourishing big in the music industry. She has an unique style and rhythm which compliments the hip-hop urban community. Not only does she compliment the hip-hop urban community, Qnova brings diversity and limitlessness, which undeniably places her to be that great candidate within the many music genres. She has earned recognition and has been listed in the DJ Coalitions' hottest tracks for rotations which is influencing global DJ requests, for her drops in spinning her records. Moving on upscale, Qnova has swiftly made accomplishments in pushing her latest single, "Talk Yo Talk Sis", onto FM radio in six states and counting. Qnova has left many memorable interviews on FM radio stations, with continuous play requests in their local communities. Her sound has globally marked territories around the US, UK, and the Netherlands. With Qnova's ongoing ambition it is safe to say that she, as an independent artist, will continue to rise and reach even greater heights within her music career. 
3-5 Sentence Bio
Qnova's music can be streamed on all digital platforms and also find her in the pages of popular articles and interviews from multiple blogs and magazines including The Source Magazine, LA Weekly, Hip-Hop Weekly, This is 50, AP News, and Atlanta Voyage Magazine.
Agenda, You want to portray or How you want yourself to be portrayed as in articles
I want to portray myself as being "myself." I do not want to follow any specific trend, instead, show others that it's ok to be you.
Can you tell us a story about what brought you to this specific career path?
At a young age, seeing family members and friends that were in connection with music paths really brought me closer in wanting to learn music for myself.
Can you share a story about the funniest mistake you made when you were first starting? Can you tell us what lesson you learned from that?
When first starting, the funniest mistake would be creating tons of music tracks but not promoting and investing in myself. I guess I assumed that my name would get out there on its own.
What do you think makes you or your company stand out? Can you share a story?
I stand out because I like to create stories within my music. At times, I create lessons that could be learned as well in my music. People tend to love relatable stories.
Which tips would you recommend to your colleagues in your industry to help them to thrive and not "burn out"?
I would suggest for them to continue going after their dreams and to not give up. Also, have fun in what you do.
Is there a particular person who you are grateful towards who helped get you to where you are? Can you share a story?
I would say that my personal producer and manager has helped me get to the point of where I am today. They continue to motivate and support me in chasing my music career.  
How have you used your success to bring goodness to the world?
I have performed motivating songs for events such as mental health awareness & Juneteenth. I always have people coming to me saying that they appreciate my songs and that listening to my words has helped and eased them. This means a lot to me. 
Do you have a favorite "Life Lesson Quote"? Can you share a story of how that was relevant to you in your life?
My favorite life quote is, "Follow your dreams. Remember, in dreams, you are the creator. You have the ability to manipulate them." In other words, you are what you create for your world, in reference to your dreams. Currently, I am certainly going after goals and dreams. My team and I are continuing to set ourselves up for success. Read more of my quotes on my website at: https://www.qnova.website/qnova-quotes-and-facts/ 
You are a person of great influence. If you could start a movement that would bring the most amount of good to the most amount of people, what would that be? You never know what your idea can trigger.
I world start a movement of self-love. I want people to know that it's ok to be yourself no matter what. You are you for a reason and it's even more special that you are not like anyone else.
What is your next big move?
My next big moves are touring other states and colleges, and creating EDM music (which is something I have never done).
© 2022, Logan. All rights reserved.