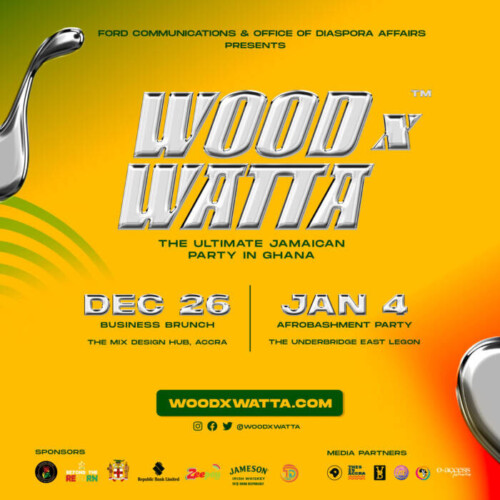 On December 26, and January 4, Ford Communications in partnership with Ghana's Office of Diaspora Affairs will present WoodxWatta – a two-day interactive Jamaican Festival set to take place in the heart of Accra. This festival, unlike any other, is the ultimate celebration of the direct lineage between Ghanaian and Jamaican cultures. WoodxWatta invites the visiting diaspora and Ghanaian investors to shift their focus to the collaborative future of Ghana and the Caribbean; and unlock industry, trade and investment opportunities between the two regions. The festival will feature two panel discussions focused on culture and business, global networking opportunities, and will climax with a proper bashment to close out the "December in Ghana" activities.
Tickets are available now for purchase.  
Founder Lakeshia Ford, CEO of Ford Communications has reimagined the connectivity of Ghanaian and Jamaican culture and industries through this two-day legacy festival. Ford noticed what she calls the "gap and gaze" in Ghana. With the phenomenon of the Year of Return, travelers flocked to Ghana for top entertainment experiences. However, Ford and her team realized there remained a limited positioning of the country as a party destination, or an escape, rather than a blossoming ecosystem worth investing and imagining new futures in. WoodxWatta looks at how Jamaica and Ghana, the Caribbean and Africa can identify synergies, communicate, and work in harmony to produce solutions to each region's problems.
Day 1 of WoodxWatta, December 26, takes place at the elevated rooftop restaurant and design hub The Mix GH. Programming includes panel discussions with culture and business visionaries from across the diaspora, live DJs, an interactive Afro-Caribbean brunch and networking opportunities. Discussions will focus on the long term Afro-Caribbean visions of culture, technology, real estate, trade and mutual investment potential. Day 2, of WoodxWatta, January 4, is an all out bashment taking place at luxury venue The Underbridge in East Legon. More than just a party, this culturally immersive experience will highlight the continuum of Black music and dance via Dancehall and Afrobeats; and celebrate the possibilities of our shared future–s, and the collective liberation of the Black diaspora. Patrons can expect sounds from renowned DJ and producer Blaq Pages, among others.
Tickets are available now for purchase via the WoodxWatta website. 
"Whether it's homecoming or December in Ghana, we travel and gather – celebrate and party, but I think a lot is left on the table when we're not engaging each other on the economic front," says founder Lakeisha Ford. "WoodXWatta is about deepening and expanding our connection to create the future we want to see for ourselves."
"There is more than $1 Billion in trade and export potential between Africa and the Caribbean. We are anchored by our cultural connection, but it's time for emerging markets to start collaborating, economically. This festival is the answer to that call for the Caribbean and Ghana and Africa, at large."
WoodxWatta is officially sponsored by Zeepay, Travel Deeper, Republic Bank, and Jameson. The festival is endorsed by the Consulate of Jamaica, Ghana Investment Promotion Centre, The Office of Diaspora Affairs, and Beyond the Return with collaborative support from Chambers media and Oaccess Jamaica. Stay tuned for more announcements on lineup, programming and more.
To keep up with all things WoodxWatta, follow @woodxwatta on Instagram, Facebook, and Twitter. 
© 2022, Seth "Digital Crates" Barmash. All rights reserved.