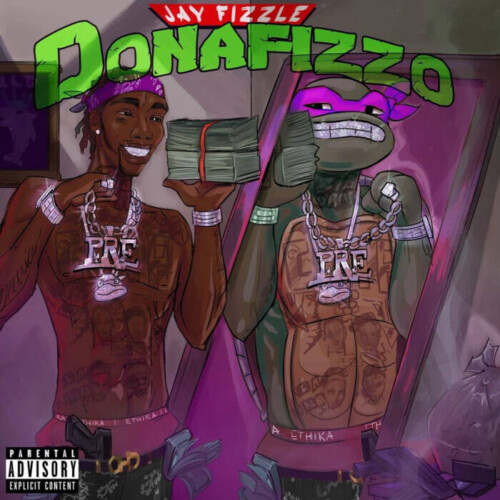 Putting on for Paper Route Empire for over half a decade, Jay Fizzle is a master of the searing street rap that serves as the bass-booming heart of Memphis music. Eager to establish his name far beyond the city that raised him, Fizzle refines his grind on his new mixtape, DonaFizzo. Featuring appearances from his PRE family, including Key Glock, Big Moochie Grape, Joddy Badass, and SNUPE BANDZ, plus high-powered peers like Big Scarr, Jackboy, and 21 Lil Harold, DonaFizzo is available everywhere now via Paper Route Empire. 
Much like Donatello, the tape's titular ninja turtle, Fizzle leans into his knack for invention on the tape as he hones his flow into unexpected pockets on each stellar instrumental from heavy-hitters like Bandplay, Ayoza, and Sosa 808. With a style inspired by his own Master Splinter, Young Dolph, Fizzle's desire to ascend from the gutter can be felt in every track. From the arcade villain-esque "Nike Check," to the Mission: Impossible-esque bounce of "50 Freaky B*tches" ft. 21 Lil Harold, to the furiously flex-heavy "Nothing Into Something," DonaFizzo hits harder than a bo-staff from start to finish.
Along with the mixtape, Fizzle shares a new video for the Sosa 808-produced standout, "Atmosphere." The Brothers Film-directed clip finds Fizzle bringing more smoke than a Memphis rib spot as the video opens on a trio of black-clad masked menaces tagging up a squad car before soaking it with gasoline. No matches are required, the car erupts in flames at the drop of the beat as Fizzle stokes the inferno with explosive flows.
DonaFizzo is the latest salvo in a busy year for Jay Fizzle and the rest of PRE. Fizzle kicked off the year with purpose, sharing "LLD," a heartfelt tribute to his mentor Young Dolph. Adorned with lush harmonies and a star vocal turn from Ricco Barrino, "Long Live Dolph" finds Jay Fizzle baring his soul, the South Memphis native audibly emotional when he relays his gratitude to his mentor for teaching him everything he knows: "The way I talk, the way I walk, the way I act, the way I dress/The way I do my thing up in the booth, I learned it from the best." With over 1.8 million views on YouTube, "LLD" is the opening track from Paper Route Empire Presents: Long Live Dolph, a compilation album from the independent label, which features appearances from nearly every artist on PRE, including Key Glock, Big Moochie Grape, Kenny Muney and more.
© 2022, Seth "Digital Crates" Barmash. All rights reserved.