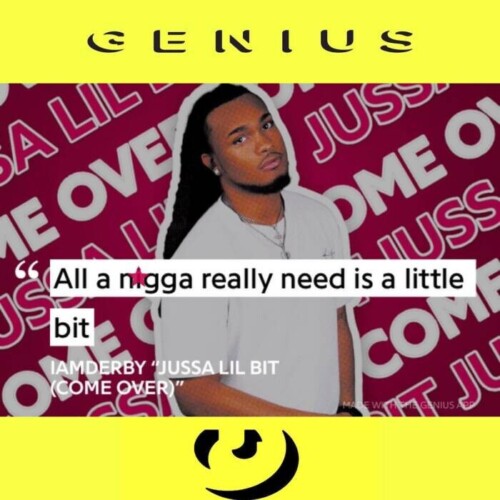 IamDerby does it again with his recently released song titled "Jussa Lil Bit" which racked up over 8k streams on Spotify within its first month on the platform. Produced by E Jay Beatz and IamDerby himself, the chorus of the song is very recognizable being a sample bite of words from 50 Cent's "Just a Lil Bit". The track also features samples from the R&B Duo Changing Faces' 2000 release "Come Over" which was originally written for & recorded by the late legendary singer Aaliyah in 1999 but was later given to the group Changing Faces due to the song inactivity while never making the track list on Aaliyah's eponymous third and final studio album in 2001. Changing Faces included the song on their third studio album titled "Visit Me" (2000).
IamDerby's lyrics to this song can be found on multiple sources, to also include Genius, a nationally known platform that features many "A list" and "B list" artist's to define the meaning behind their music. Artists such as 21 Savage, Snoop Dogg, Lil Wayne, Lil Uzi Vert, Megan the Stallion, City Girls, Eminem, etc; just to name a few. Genius is verified on Instagram with over 5.4 million followers and 11.1 million subscribers on YouTube.
Overall, "Jussa Lil Bit" is a creative and well put together musical construction that gives a new and old school hip hop/ rap club bouncy feel that deserves to be recognized as such. Fans are looking forward to see what's next from IamDerby.
Interesting fact(s) about this production: "Jussa Lil Bit" is produced by E JAY Beatz & co-produced by IamDerby. The song is also engineered, mixed, and mastered all by IamDerby at his home studio in Portsmouth, Virginia according to validated resources. It is also reported that "Jussa Lil Bit" by IamDerby was originally titled as "Come Over" before its official release and was first debuted at the Berkeley Reunion (2021) in Norfolk, Virginia on August 13th as he headlined with a few other local artist in the area. The song had a completely different vibe and some of the lyrics were different at the time. Maybe we will have the honor to hear what it was before the official release someday.
For more IamDerby: (Click Link To Follow)
© 2022, Logan. All rights reserved.