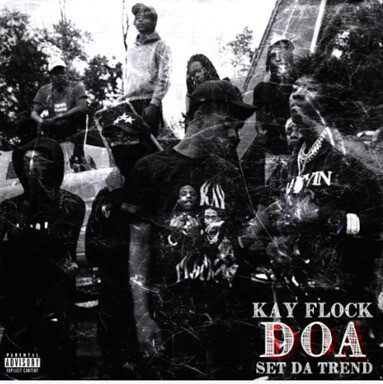 Today, New York drill star Kay Flock teams up with fellow Bronx native Set Da Trend for the funereal "DOA." The piano-driven track captures the young MCs at their menacing best, but it underscores that feeling with a heavy dose of visceral emotion. Enlisting Set Da Trend was also pretty genius, given how fast the fellow New York native's talent is catapulting. With both artists sonically pairing well together, "DOA" will easily become a fan-favorite before the week is out. Dominating his own lane for the last couple of years, quarter four is projected to be nothing but super energetic for Kay Flock's music.
"DOA" is also accompanied by official visuals, pairing the track with a lit and rowdy video directed by Kaiyah Napri & Launch Team. It gathers the crew of friends at a Bronx construction site where they turn up and vibe, and includes a cameo from recent collaborator Dougie B along with a special message from Kay Flock to his friends.
Kay Flock's fanbase is extensive and continues to grow despite every circumstance, and Set Da Trend compliments this new single well. For those new to Kay Flock, "DOA" is a great first impression. Be sure to stream the single below:
© 2022, alanna. All rights reserved.