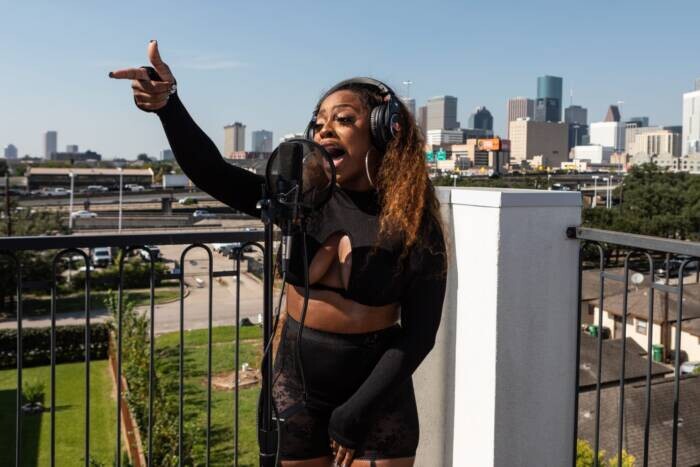 KenTheMan just released a "60 Second Freestyle" with Red Bull Music that is going viral. She took some time this past week to talk to HipHopSince1987.com about the freestyle video and her career.
KenTheMan is a very talented hip-hop artist based in Houston, Texas. She is an energetic rap artist with deep southern roots that shine through her music. She describes herself as a "ratchet rapper" but her lyrical content is definitely more in-depth than most artists. Her sound has a range and her flows and rap patterns are unique and work with many different types of sounds. She was inspired by real-life situations to start making music. Some of the artists that inspired her were Niki Minaj Lil Wayne, Tupac, and Eminem. She was inspired by their creativity but her sound is unique and true to her region.
She is separated from other artists by her identity. She has the "twang in her talk" but her own style is built from her influences. Throughout her career, she has overcome obstacles in building her fanbase. That experience helped her throughout the pandemic to keep pushing forward and focusing on her career. Her bookings are increasing and she keeps finding ways to connect with her fans and keep her career going forward.
With the help of her management, she has been learning the rap game and "what's next" after releasing a lot of rap music. She has put more effort into social media and producing content to support the music. Her rap flows are effortless due to years of consistent recording and mastering her craft. This year she has goals to go even harder in the studio and build up her song catalog. She came up with freestyles so was even developed before she started making her own songs.
One of her first big hits was a song called "Deserve" that blew up and got her a lot more fans. At the time she kept putting her foot on the gas and her songs and videos have constantly gotten bigger and better. She portrays a "glow up" type energy for her female fans with positive messages about self-confidence. She constantly tries to outdo herself and keep improving the quality of her music and visuals as well as her online presence.
After years and showing and proving her talents Red Bull reached out to her to participate in the 60 Second Freestyle series. The video was recorded on one of the hottest days of the year on a rooftop in Houston and they were extremely accommodating to her to record the best performance possible. They even had an employee fanning her down in between takes. Red Bull truly supports the culture and made a great pick having KenTheMan perform this freestyle for their social media series. You can stream the freestyle after the jump and make sure to let them know what you think in the comments. The 60 Second Freestyle leaves the viewer wanting more and this is a milestone in her career and a big step in the right direction for her future as a successful artist.
She is currently working on a lot of new music, an album, and new visuals. She has future goals of directing more videos and commercials and fully mastering her craft as a multi-talented creative artist. Make sure to stay tuned to HipHopSince1987.com for more work from KenTheMan soon!
© 2022, Seth "Digital Crates" Barmash. All rights reserved.