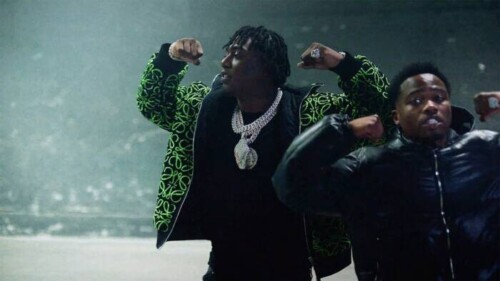 A new project by Fredo Bang is being released today (April 15) called Two-Face Bang 2, which features 18 tracks and additional features from Rob49, Sleepy Hallow, Money Man, and Roddy Ricch, who is featured on the standout track "Last One Left." Featuring Hardbody B-Eazy and DJ Chose, "Last One Left" is about standing tall with loved ones in the face of struggles, keeping it real with others, and much more:
Featuring graphic violence and an unspecified reason, Jon J.'s clip for "Last One Left" opens with a SWAT team arresting Fredo Bang. This could be a loose reenactment of his arrest in Miami in 2021. In the next scene, Fredo is imprisoned and handcuffed among law enforcement, which is intercut with a shot of a mother figure signing some legal paperwork, as well as a tattered poster of his friend, collaborator, and friend, Gee Money. The Baton Rouge star eventually appears with Roddy in a big warehouse for his performance. For this video to catch all of its content, viewers will need to press play multiple times.
© 2022, Derek Charles. All rights reserved.