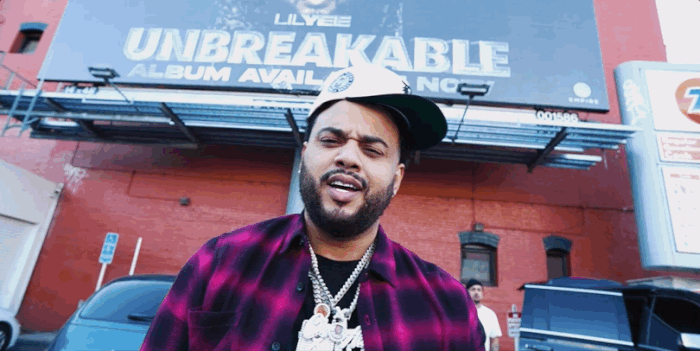 Using music as an outlet to reconcile with the trauma of his past, Lil Yee has made his name in his hometown of San Francisco with his unique, melodic spin on musical lament. Through his deeply personal lyricism and earnest delivery, Lil Yee has established a relationship with his listeners that makes each release feel less like a rap song and more like a late night phone call with a dear friend. Carrying his momentum from the December release of his latest project, Unbreakable, into the new year, Lil Yee returns to share the video for his lilting lovesick ballad, "Lie Together."
Directed by Esoteric, the visuals closely mirror the themes of the track, opening with a relationship vignette: Yee on a FaceTime call with a lover who falsely accuses him of lying about being at the studio. As the track begins, Lil Yee's mind meanders through the grief he can't escape: the loss of loved ones, the love of lost ones, and the inescapability of the streets. Cutting to and from scenes of Yee standing alone in the shadow of darkness, surrounded by homies in the light of day, and even rapping beneath his hometown's billboard advertising his project, Unbreakable, the video perfectly captures the full spectrum of emotions that Yee exhibits on the track.
"Lie Together" is the third music video from Unbreakable, following clips for "Going Crazy" and "Dead & Gone" ft. Lil Bean. Unbreakable is the first full-length release from Lil Yee since 2019's Live 4 It, Die 4 It, which saw the Bay Area rapper expand his sound beyond the traditional Mob music styles of his hometown into the melodic trap stylings of Atlanta and the snapping West Coast sound favored in L.A. and the East Bay. In 2021, Yee featured prominently on trap superproducer Zaytoven's compilation mixtape, Zaytoven Presents: Fo15, dedicated to the city of San Francisco and exclusively featuring the city's hottest artists.With Unbreakable, available everywhere via EMPIRE, Yee proved that his blend of pain music can stand up to anyone on the West Coast and beyond.
Watch "Lie Together": https://youtu.be/D0wCE8N-1iY
Buy/Stream Unbreakable: https://music.empi.re/unbreakable
© 2022, Seth "Digital Crates" Barmash. All rights reserved.