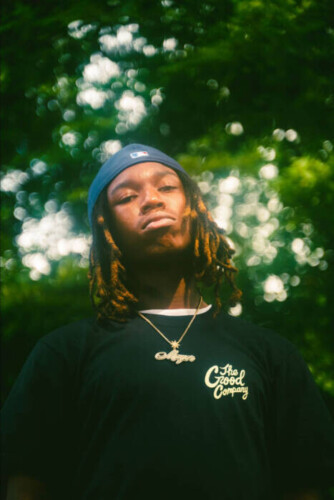 Photo Credit: Wyeth Collins
In 2019, 22-year-old rapper Mavi released his debut album Let The Sun Talk to thunderous applause and widespread critical acclaim, and now, fresh off a tour with Jack Harlow and Babyface Ray, he has announced his sophomore album Laughing So Hard It Hurts, out 10/14, and shared a new video single "Baking Soda". His forthcoming album, Laughing So Hard It Hurts is a collection of eloquent soliloquies that bounce around the curious consciousness of Mavi––whether through the introspective analysis of his own self-worth, the indispensable appreciation and tenderness he has for his loved ones, or the anxious duality of striving to be a successful artist and also maintain his core political values––Mavi tackles it all. "Baking Soda", produced by the famed Chicago multi-instrumentalist Monte Booker and recorded at Rick Rubin's Burbank studio, is an earnest retelling of the obstacles and opportunities that line the walls of Mavi's life––with his high-brow, acrobatic lyricism superbly fitting over an 8-bit sample chop and a warm, inviting pair of synths and strings. The Brick-directed visual for the track opens with Mavi's infectious smile as he performs his pondering verse, followed by a montage of clips featuring his crew and his hometown of Charlotte. The influences that are wrapped up in Laughing So Hard It Hurts track the day-to-day apparatus of Mavi's life––from studying the hard-hitting raps of Babyface Ray to admiring the soundtrack of the animated cult-classic show Adventure Time, the 16-track album offers the most holistic view of his life to date. With topics surrounding the lightest and darkest moments of his life, the love and support of his tight-knit community, and the prospect of possibly being a family man in the future, Laughing So Hard It Hurts (Out 10/14) are the rhythmic contemplations of an MC wise beyond his years, trying to make sense of the complex path laid before him. In words of Mavi:
"It was a really loving experience to put together this album––I feel relieved that this is coming out and I'm still slightly in disbelief. This isn't the first album I made since the last album I dropped [Let The Sun Talk]––I made 2 albums since the last one was released, so this album coming out still feels a little imaginary…I don't know when it's gonna feel real quite yet, but I'm happy."
Mavi released his critically-acclaimed debut album Let The Sun Talk (30m+ Global Streams) in 2019, a quilt of generational tales, tightly woven flows, and awe-inspiring rhymes. In the words of Pitchfork, "[Let the Sun Talk] delivers revelations from the shadows, concealed and mysterious, in search of fresh air and sunlight". Although Mavi is an exemplary rapper, his expertise doesn't stop on the mic. He pursued a degree in Biology from Howard University, is an avid political theorist, and a person who holds steadfast beliefs about the ever-changing landscape around him. Following the success of Let The Sun Talk, Mavi had prepared a sophomore album set to release in 2020, but due to unforeseen personal circumstances, he decided to ultimately shelve the project. Instead, in 2021 Mavi returned with the stellar 5-song EP, End of The Earth, featuring fan-favorites like "TIME TRAVEL" and "THOUSAND MILES", alongside a LoneWolf-directed visual, before hitting the road on tour in the tail-end of 2021, accompanying Jack Harlow on his headlining Cremé De La Cremé tour alongside Detroit bar spitter Babyface Ray. In an era where metrics rule all, Mavi has emerged as a unicorn––an artist whose output remains uncompromising, but still manages to maintain a sizable and mobile fanbase, (1m Spotify Monthly Listeners) even with a 2-year break between releases and only an album and an EP released. Only adding to his unique stature, Mavi is also a fully independent and financially self-sufficient artist, bringing a certain level of urgency to his work that is incomparable. Now, after years of reflecting, contemplating, and of course, rapping––Mavi is ready to deliver his highly-anticipated sophomore effort, Laughing So Hard It Hurts.
LAUGHING SO HARD IT HURTS  – OUT 10/14
PRE-SAVE
About Mavi:
Instagram | Twitter | Soundcloud | Youtube | Spotify | Apple Music
© 2022, Seth "Digital Crates" Barmash. All rights reserved.