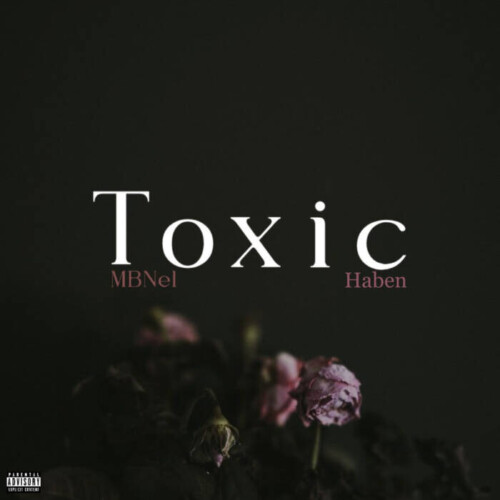 Equally adept at serving snapping rhymes as heartfelt melodies, NorCal native MBNel is a man of many talents. Flexing his pipes and his pen, Nel shares "Toxic," his new video single. Blessed with an acoustic guitar-laden beat from Berki (known for his work with Rod Wave and Toosii), "Toxic" is a duet with rising singer Haben, whose breathy vocals and virtuosic melismas jibe with Nel's pure tone and plaintive, faster-paced delivery. Nel is a deeply personal songwriter, using his songs like journal entries, and that personal touch adds gravitas to Nel's pleading–the object of his intentions is stuck with an uncaring boyfriend, and Nel tries desperately to help her see: "You done f*cked up in the past, now you're trusting the trash/Everything he say you don't believe it/You try to run from the past, and he make you insecure/But, you got the right to be conceited." On her verse, Haben sings from the perspective of a woman trapped, her delivery reflecting the pain and exasperation of the lyrics: "Feel like we holdin' each other hostage/Why I gotta pretend when I'm being honest?"
The new video, directed by Mike Wild$, paints a vivid portrait of the relationship described in the song–Nel acts as the omniscient narrator as a troubled couple work through their union's dissolution. Floating in on a sea breeze, Haben sings from the woman's perspective as she attempts to escape . "Toxic" follows in the wake of "Fadeaway," a piano-led ballad dedicated to the memory of a fan who recently passed away.
"Toxic" is on track to appear on Started In The South, the Stockton, CA native's next EP. Arriving during a period of sustained growth from Nel, the new EP finds him reflecting on his success and paying homage to the streets that raised him. The "south" in the EP's title refers to its position at the bottom of the map–Nel started at the bottom, but he's quickly emerging from his circumstances off the strength of his authentic anthems. Spanning 4 songs and featuring an appearance from Bleu, Started In The South is coming soon via Muddy Boyz/EMPIRE.
Born and raised in Stockton, a city in Central Cali with a busy rap scene, MBNel built a reputation on the West Coast for his combination of hummable melodies and relatable trench tales. The 25-year-old artist has a loyal following who respond to his naked authenticity, a quality on display on his 2021 project No Hard Feelings. In the wake of last year's success, Nel is challenging himself artistically, pushing the boundaries of his sound as he continues to express his truth.
Stay tuned for more from MBNel.
© 2022, Seth "Digital Crates" Barmash. All rights reserved.