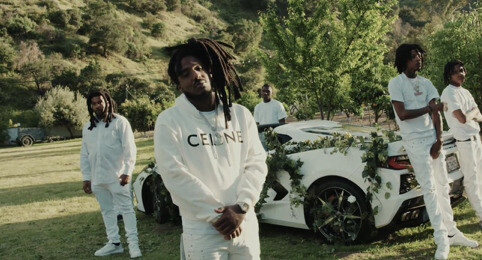 CMG lyricist Mozzy continues to make his presence felt dropping visuals for his latest track "Murder On My Mind." Known for consistently cranking out  quality content, "Murder On My Mind" is the sixth video off of the Oak Park native's recently released studio album Survivor's Guilt.

Mozzy had this to say regarding the theme of the Survivor's Guilt album title, which is the rapper's first studio album under his new partnership with Yo Gotti's CMG.

"It feels like me being the last one left. Out-living my peers and the guilty consciousness of knowing I wasn't dream-chasing this by myself. I was getting to it with a pack of wolves and those same loved ones are not here to be able to enjoy the fruits of their labor with me. I've been living the dream, but my people aren't here to say the same. That's the Survivor's Guilt." -Mozzy

"Murder On My Mind" is Mozzy's open and honest verbal diary reminiscing on betrayals, past choices, and highlighting the sleepless nights where guilt and pride conflict creating a whirlwind of emotions that he holds back from displaying. It's an expression of the weight of the spirit of death that haunts his thoughts. The heavy visuals follow Mozzy's more turnt up single "In My Face" featuring YG, Saweetie and 2 Chainz, which has gained rapid popularity over the past few weeks.
© 2022, Seth "Digital Crates" Barmash. All rights reserved.