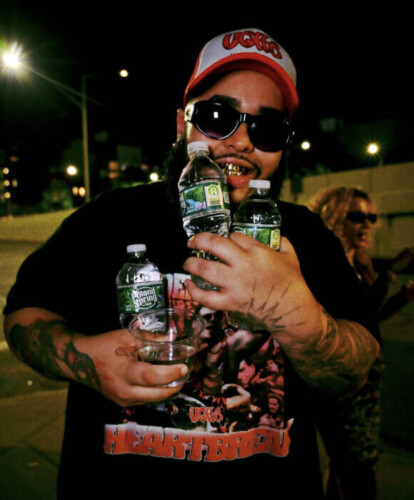 ReyLovesU is back with a brand new project titled Heartbreak Unlimited Vol.1. It features production from the likes of Killers to Lovers, Juicy J, and Ciege Musik and it has made a huge impact on the UK iTunes chart. This is a major accomplishment for ReyLovesU and a testament to the quality of his music. Keep reading to find out more about ReyLovesU's new project and its success.
ReyLovesU was always surrounded by cultural diversity, the big family events involved him singing all of his favorite songs. Awe-inspiring. As a way of escaping, he enjoyed listening to music like The Weeknd, T-Pain, Michael Jackson, and Donell Jones are just a few.
ReyLovesU's latest project Heartbreak Unlimited Vol. 1 has officially made its mark in the music industry. A single from the album called "Deep End" reached number 18 on the UK iTunes chart the day the project was released. This project is a reflection of ReyLovesU's musical inspirations and his own personal journey of heartbreak and growth. Featuring production from Killers to Lovers, Juicy J, and Ciege Musik, this album is sure to be a hit!
The response to the album has been overwhelming, with fans all over the world singing along and connecting with ReyLovesU's sound and message. 
With such an impressive lineup of producers and the great reception from the fans, it is easy to see why Heartbreak Unlimited Vol. 1 is making its mark on the music industry. It is an absolute must-listen for any music lover! With different songs and catchy beats, anyone can find their favorite track from Heartbreak Unlimited Vol. 1 that speaks to them. He has over 58k+ followers on Instagram and 12k+ subscribers on YouTube where he does videos about what inspires him, live performances and more. 
For more updates on ReyLovesU make sure to follow him on Instagram at @reylovesu or subscribe to his YouTube channel at ReyLovesU. ReyLovesU is sure to be a star in the music industry and will continue to take the world by storm with his music. With over millions of streams and counting, ReyLovesU is sure to become a household name in the music industry in no time. Make sure to give Heartbreak Unlimited Vol. 1 a listen, you won't be disappointed!
Instagram: https://www.instagram.com/reylovesu/
© 2022, Logan. All rights reserved.