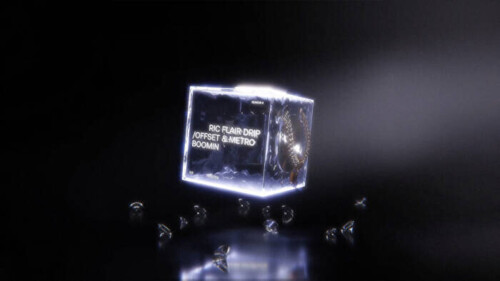 The transparent NFT royalty platform is offering fans shares in the streaming royalties of one of hip hop's most streamed songs, "Ric Flair Drip."
There's no doubt that Metro Boomin and Offset's "Ric Flair Drip" was a seminal moment for hip hop. Going 6x Platinum in the US, the duo's wavy ode to the stylish wrestling legend took the world by storm. In the top 250 most-streamed tracks of all time on Spotify,  its everlasting appeal ensures that it continues to rack up streams and plays in the billions across the globe.
Now fans and NFT lovers can grab a slice of this iconic track thanks to the latest drop from anotherblock on December 1, 2022. This will be anotherblock's biggest drop to date, as the platform offers 1000 NFTs at $99 a piece. Each NFT gives holders the right to a portion of the streaming royalties from "Ric Flair Drip," thanks to anotherblock's collaboration with producer Bijan Amir.
"This is my first foray into web3 and crypto. I wanted to do something meaningful, when I did. I saw other producers I respected and trusted working with anotherblock, and it felt right," Amir explains. "I love the idea of fans getting a share of my rights, instead of me selling a share of my masters to some investor."
"Every drop is bigger and sells out faster. Our secondary market for NFTs is thriving, bucking the downward trend of many other projects," says anotherblock co-founder and CEO Michel D. Traore. "We see this as clear proof that these NFTs are providing real value to holders, and that owning a share of a track like 'Ric Flair Drip' means a great deal to fans."
"Ric Flair Drip" was the culmination of years of hard work and slow networking for producer Amir, who put together the melody at the prompting of Metro Boomin. When Amir sent some of his ideas, Metro was all about one of them. The track came together, featuring a knock-out performance by Offset, paying tribute to professional wrestler Ric Flair's unforgettable style.
The track caught fire when it first dropped in 2017. "Metro Boomin was doing 20 million songs sold at the time. Migos were going crazy, and this was the first time Offset had done solo work. The track had a different sound and tempo, a different bounce," notes Amir. "It was a mix of the timing, the sound of the record, and the hype behind these guys. It's a good song, but it was the perfect storm."
Now Amir hears from strangers how they love lifting or running to "Ric Flair Drip," how it's got a permanent place on their playlists. "People tell me it's one of their favorite rap songs of all time," Amir laughs. "It's so surreal to hear that."
About anotherblock
anotherblock is a community of music lovers building music rights catalogs. The company was founded in 2021 by the entrepreneurs Michel D. Traore, Sebastian Ljungberg and Filip Strömsten. anotherblock was built upon the idea that that accessing music rights should be easy and democratic. By connecting music rights to NFTs, anotherblock creates a smooth and easy way to both buy and sell music rights – a community of music lovers building music rights catalogs together with artists. The company's founders created anotherblock to increase the value of music by introducing it to a free and open market. This will solve the institutionalized imbalance of power within the industry.
© 2022, Seth "Digital Crates" Barmash. All rights reserved.