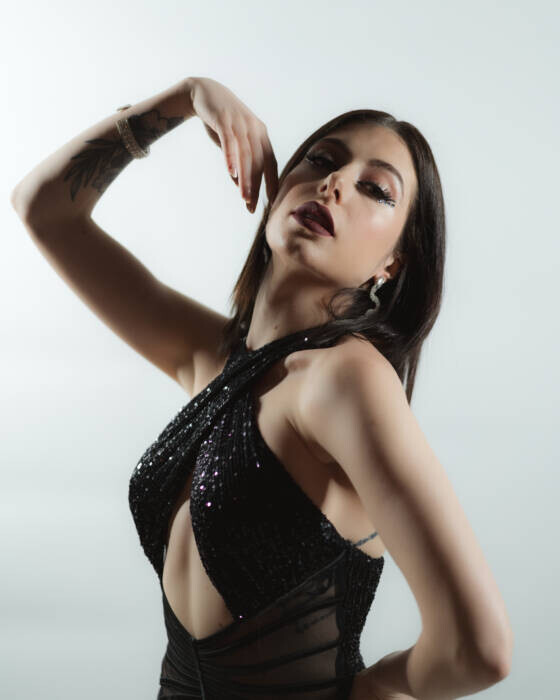 Nanu  showcases her musical range superbly in "Dancing With the Devil." Through her buttery vocals and unapologetically raw flows, The artist fuses sonic elements of tropics, rap, and R&B to form a uniquely stunning piece of music. "Dancing With the Devil" captures themes of empowerment, boldness, and fun with a touch of spice. This single is sure to resonate with a vast audience as it's performed in English and Spanish. Engineers Ante O'Connor and Derek "Mega Man" Kavanagh of  Abstract Studios mixed and mastered "Dancing With The Devil,"  while production was handled by MAYZINBOY.
Nanu is a bilingual (English and Spanish) singer, songwriter, and rapper based in Toronto. Born Daniela Sofia Bragagnolo to an Argentinian/Italian family in Atlanta, GA. She was raised in Argentina and adopted her stage name "Nanu" from a childhood nickname she once despised but now embraces as a symbol of family and love. She is an Artist inspired by many different genres. Nanu's sound is a fusion of reggaetón, hip-hop,  pop, and R&B, embellished with her own uniqueness. She embraced her love for music as a child when she was enrolled in dance, piano, and musical theatre classes. This translated into entering the music scene upon moving to Toronto in 2015. Shortly after, Nanu quickly gained a social media presence with her numerous successful singles and music videos and solidified her popularity. Nanu fuses her unapologetic rawness and authenticity with poise and elegance to create music that is sure to strengthen, uplift, and inspire listeners.
Listen to "Dancing With The Devil" Here:
https://bfan.link/dancing-with-the-devil
Published by: @musicisabstract
© 2022, Abstract Studios. All rights reserved.