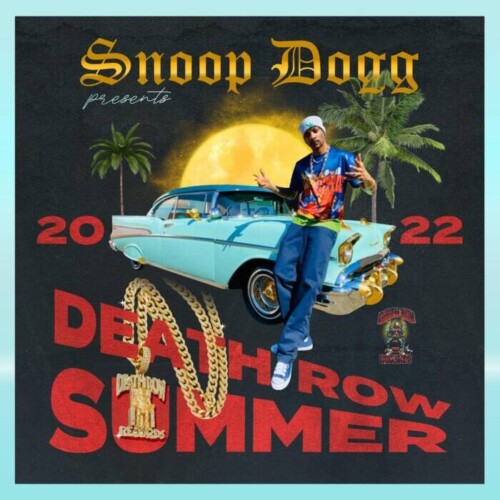 Today, Snoop Dogg, dropped his latest project, Snoop Dogg Presents Death Row Summer 2022, a compilation album featuring an array of musical giants. The album is the second official release on Death Row Records, since Snoop acquired the brand earlier this year. The album features an eclectic mix of artists, including Miguel, Raphael Saadiq, The Eastsidaz, Tha Dogg Pound, Butch Cassidy, Jane Handcock, October London, Stokely, Minnie Merda, Latoiya  Williams, Champ Medici, and Butch Cassidy. The album is fueled with production superpowers, including DJ Battlecat, Hit Boy, FredWreck,  Soopafly,  KJ Conteh, Dr. Bombay, and Kanobby. The album is currently available on all streaming services and is being distributed by Create Music Group and Death Row Records.
"I brought together all my homies to create a perfect Summer album that has something for everyone on it," said Snoop Dogg. "I promised ya'll when I got back Death Row Records, I was gonna bring the brand to the next level … and this album is a beautiful project celebrating the true spirit of Death Row. Look forward to hearing what ya'll think."
Earlier this year, Snoop Dogg released the album, B.O.D.R. which marked the 30th anniversary of Death Row's very first release, the seminal West Coast, genre-defining The Chronic. Since acquiring the Death Row Records brand in February 2022, Snoop Dogg has been taking the iconic label to new heights through ventures, including a Crooks & Castles partnership with two new lines; Death Row Records Apparel and Snoop Dogg's Apparel, a full lifestyle clothing collection and continues to push musical boundaries in Web3, NFTs and more.
Snoop Dogg Presents DEATH ROW SUMMER 2022 TRACKLISTING
1. Keep On Ridin- Snoop Dogg ft. Tha Dogg Pound & Butch Cassidy- Produced by Dj Battlecat
2. Bad- Tha Eastsidaz- Produced by Hit Boy
3. Touch Away- Snoop Dogg ft. October London- Produced by Dr. Bombay & Kanobby
4. Bron & Bronny- Champ Medici & Snoop Dogg- Produced by KJ Conteh
5. Everybody Watching- Raphael Saadiq & Miguel- Produced by Raphael Saadiq
6. Mulholland Drive- October London & Latoiya Williams- Produced by Soopafly
7. Mad Mans World- Jane Handcock- Produced by Dr. Bombay
8. World Go Round- Uncle Chucc- Produced by Uncle Chucc
9. Whoopty Whoop- Tha Dogg Pound- Produced by Dae One
10. Higher Power- 84 Faces- Produced by Blu Magic Beat Co.
11. Thru Hell- Minnie Merda- Produced by FredWreck & Beatnick Dee
12. Baila Conmigo- October London- Produced by Soopafly
13. Jeopardy: Verbalize- Stokely ft. Snoop Dogg
14. Wait a Minute Baby- Raphael Saadiq ft. October London, J-Black & Snoop Dogg- Produced    by Raphael Saadiq
15. Runnin- HeyDeon- Produced by Soopafly
© 2022, Seth "Digital Crates" Barmash. All rights reserved.