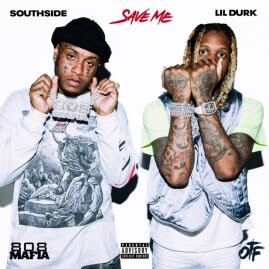 Multi-platinum producer Southside, the anchor of the influential 808 Mafia production team, releases his latest single and music video today, "Save Me," featuring longtime collaborator Lil Durk. Following the success of his previous single, "Hold That Heat" featuring Travis Scott and Future, the trap mainstay is charging towards the release of the 808 Mafia compilation album, due later this year.
"Save Me" is a glimpse into the brand of production that helped make Southside a household name over the course of the last decade. The Atlanta native has a prolific ear and has proved deft at providing the perfect canvasses for his collaborators, whether it's the shrill, 808s-heavy concoctions he and Future are known for working with, or the subdued trap melodies found on Drake and Future's What a Time to Be Alive album. With the versatile Lil Durk on vocal duty this go-round, Southside's production shines, providing a melodic backdrop laden with unsparing bass, a soundscape that Durk has found a multi-platinum home in. Southside's career is characterized by his ability to adapt, tailoring his production to the strengths of his featured artists, and "Save Me" is a crash course.
The music video aligns with Southside and Durk's chemistry, as the duo races through the city tearing through the town, enjoying the spoils of their stardom. Southside, often behind the scenes of his masterpieces, is front-and-center in "Save Me." His musicality, however, remains the star of the show.
Southside is gearing up to make quite a bit of noise in the second half of 2022. He's been locked in with the multi-platinum rapper Polo G on a forthcoming collaboration album, NorthSide, which will pair one of Hip Hop's most prolific new voices with Southside, one of its most reliable and exciting producers. The "Save Me" producer is also cooking up a compilation album with 808 Mafia, which will flaunt star-studded performances from the likes of the aforementioned Travis Scott and Future. "Hold That Heat" earned Southside his first placement on the Billboard Hot 100 as an artist.
Effortlessly, through the many paradigm shifts that have defined Hip Hop since he first broke through in 2010, Southside has become a household name. From his early work with Waka Flocka and 808 Mafia co-founder Lex Luger, to co-producing on Jay-Z and Kanye West's legendary Watch The Throne album, to being dominant on the Atlanta trap circuit with acts like Future, Gucci Mane, and Young Thug, he's poised to be considered one of the great producers of his generation when it's all said and done.
© 2022, Seth Barmash. All rights reserved.