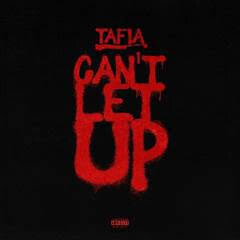 Dream Chasers hip-hop artist Tafia returns with a brand-new single and music video release "Can't Let Up." Produced by Moe Money & Elite, Tafia delivers sharp rhythmic storytelling of his journey climbing towards fame. The track takes a reflective look at the battles he still faces in his relentless pursuit of success, and "never letting up." The music video, set in a correctional facility, points to Tafia's complex background and is shot in contrast to the luxury cars and a celebration of friends that surround him today – marking an emblem of success since his come up.  
Today's single serves as a follow up from his latest release "Paper Route" which has amassed over 17 million streams and is currently sitting at #20 on the Urban mainstream radio charts.  
The Miami rapper caught the attention of hip hop legend turned colleague, Fat Joe who catapulted Tafia's pursuit of his professional rap career. Tafia's 2017 single release, "Street Fanci" spurred his discovery by Grammy-nominated rapper and prison reform activist, Meek Mill who eventually signed the Florida artist in 2019 – the first artist to land a major deal with Dream Chaser Records. Under his label signing, Tafia released the conclusion to his Street Fanci series, Street Fanci 3, as well as a joint EP with Florida rapper Major Nine, titled Fanci No.9, and his latest mixtape curated by the legendary DJ Drama, Street Clarity: Gangsta Grillz, critically acclaimed by tastemakers, critics, and fans.  
Heralded as one of Miami's "Rappers to Watch" just last year, Tafia continues to carve out his lane in the industry as rap's next heavyweight MC with tenacious skill and determination. 
© 2022, Seth "Digital Crates" Barmash. All rights reserved.