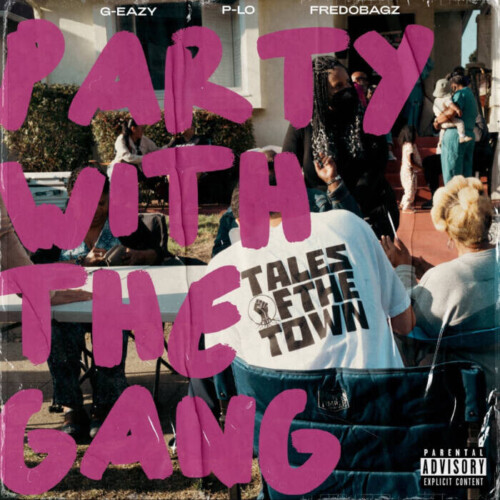 The multimedia project Tales Of The Town looks at Oakland's rich Black history from every angle, telling stories directly from community members via a podcast, an album, and much more. Today, Tales Of The Town teams up with local favorites G-Eazy and P-Lo for "PARTY WITH THE GANG" ft. FREDOBAGZ, a new slapper from the upcoming Tales Of The Town album. Though the three previous singles from the album tackled salient issues facing the community, "PARTY WITH THE GANG" proves that the Black experience in Oakland provides plenty of opportunity for letting loose. Blessed with a bouncy Bay instrumental from P-Lo himself, "PARTY WITH THE GANG" finds some of Oakland's proudest hedonists talking their smack above a rubbery bassline and distorted vocal samples. The new song is a tribute to decades' worth of NorCal club hits, complete with call-and-response hooks, wild ad-libs, and over-the-top punchlines.
The new G-Eazy and P-Lo-featuring single arrives shortly after the latest episode of the Tales Of The Town podcast. Episode 4 of Tales Of The Town is the first of a two-part installment about the history of Black music in Oakland, and how that history paved the way for the thriving contemporary Oakland music scene. The episode examines the historic 7th Street Strip, a West Oakland neighborhood that became hotbed of jazz and blues talent in the 50s, 60s, and 70s, and continues with the fascinating story of the Lumpen, the revolutionary band formed by members of The Black Panther Party.
"PARTY WITH THE GANG" is the latest offering from the Tales Of The Town album, an 11-track effort featuring contributions from Bay Area musicians. The upcoming album welcomes a diverse group of artists with a deep connection to The Town, ranging from stars like G-Eazy, to critically acclaimed acts like Rexx Life Raj, street heroes like ALLBLACK , veterans like J Stalin, and many others. Earlier this fall, Tales Of The Town shared "GET DANGEROUS," a hustler's anthem by Oakland's 22nd Jim and San Francisco's Lil Bean, "F*CK 12" FREESTYLE, an incendiary missive by Guapdad 4000 and LaRussell, and last week, TOTT released "RISEN," a soulful missive against gentrification by R&B group EluJay and vocalist Jane Handcock. Tales Of The Town arrives on October 21st via EMPIRE.
Hosted by People's Programs' co-founders and the co-creators of Hella Black Podcast, Abbas Muntaqim and Delency Parham, and produced by award winning documentarian and audio engineer, Maya Cueva, Tales Of The Town hopes to give an in-depth overview of what makes Oakland so special, and inspire others to research the fascinating history of their own hometowns.
Proceeds from the Tales Of The Town album will go towards supporting People's Programs.
Listen to "Tales Of The Town" wherever you get your podcasts
© 2022, Seth "Digital Crates" Barmash. All rights reserved.