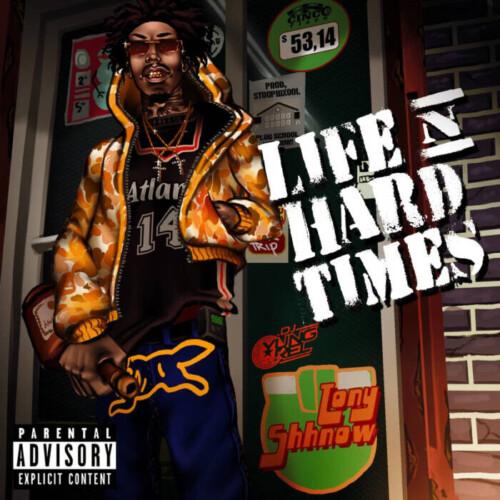 Following the release of his critically-acclaimed 2022 project Reflexions and a Brent Faiyaz-assisted remix for "Don't Look At Numbers", Tony Shhnow has shared a new video single "Life N Hard Times". The new single, "Life N Hard Times" is quintessential "plugg" music––the dreamy and lucid ATL sub-genre that Tony has been an influential figure in since its inception. Tony's punchy wordplay and whirlwind flows mesh perfectly over the ethereal keys, shaky bass, and spacey synths, courtesy of underground producer StoopidXool. The visual showcases Tony galavanting around a humble hotel and showing off his signature gold grills, representing the song title "Life N Hard Times".After bringing "plugg" to the forefront of hip-hop over the past few years, Tony Shhnow is ready to bring an entirely new flavor to the scene starting with the release of "Life N Hard Times".
Tony Shhnow is a preeminent figure in Atlanta's hip-hop scene and his new mixtape, Reflexions is overflowing with a sea of lucid instrumentation, polished finesse, and show-stopping lyricism. From the iconic trap sound and emerging "plugg" scene of his hometown of Atlanta documented by Soundcloud recently, to classic hip-hop wordplay and R&B-inspired beats, Reflexions is an abstract blend of the extensive styles at Tony's disposal. As described by Pitchfork, "The level of lyrical and musical comfort Shhnow displays on Reflexions is almost unnerving." The 18-track tape also includes Tony's recent singles, "Keep In Touch" and "Last Chance" (feat. Zelooperz), as well as features from OJ Da Juiceman, Bear1Boss, and Matt OX. This past Spring, Tony hit the road with budding Boston rapper Cousin Stizz for a multi-city tour. Reflexions is a worthwhile encapsulation of Tony's journey to constantly reinvent his eclectic sound, express the most honest version of himself on the mic, and produce music on the cutting-edge of the blossoming underground of hip-hop.
© 2022, Seth "Digital Crates" Barmash. All rights reserved.