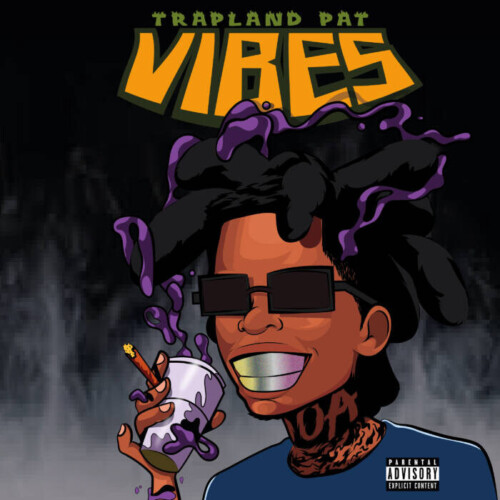 Blessed with a buoyant flow and a talent for stacking casual flexes, Trapland Pat stands apart with his innate musicality. Going in atop soulful horns and a funky bassline, Pat struts his stuff on "Vibes," his latest video single. Floating over an instrumental from Vince On The Beat, which combines elements of slinky West Coast hip-hop and classy neosoul, the Bang Biz/Alamo Records signee goes in, emphasizing the grain in his voice as he reveals how he gets faded and flexes on his come up: "Plug say he ran out of Quagen, so I took the Wock/If we ain't sippin red, then it's purple, gotta make it stop."
In the video, directed by Pat's frequent collaborator ShotByJolo, Pat invites a bevy of baddies to his South Florida mansion for an afternoon of revelry and poolside partying. "Vibes" follows-up Pat's celebratory video for "Big Business (Remix) ft. Rick Ross," in which Pat recruited the Boss (and a host of other notables including Sauce Walka and FCG Heem) to Miami's Little Haiti neighborhood for a distinctly Floridian blend of chaos.
"Vibes" is the first wholly new single from the Deerfield Beach, Florida native since he shared the acclaimed Trapnificent mixtape this past summer. Pat's first release for Bang Biz and Alamo Records, the project boasts several standout singles, including the joyful "Trap Dance" and the sinister "D.O.A." Pat taps frequent collaborator Pepper Jack Zoe, who produced his breakout hit "Big Business," to handle the bulk of the production, his creeping piano-led beats providing grounding for Pat's larger-than-life bars and hummable melodies. Trapnificent rolls out the red carpet for a tasteful selection of guests, including, Fredo Bang, who signed Pat to his imprint Bang Biz and appears twice on the tape, Sacramento street hero Mozzy, NYC Winners Circle maestro Eli Fross, and Memphis' own BIG30. Trapnificent earned praise from Pitchfork, who called the project a "zippy distillation of his regional roots" and said that Pat's music is "extremely regionally and culturally specific, like so much exciting and promising new rap music."
Ready to keep his momentum going and deliver his searing street raps to a larger audience, Trapland Pat has the goods to be Broward County's next big star. Trapnificent is available everywhere via Bang Biz Ent./Alamo Records.
© 2022, Seth "Digital Crates" Barmash. All rights reserved.