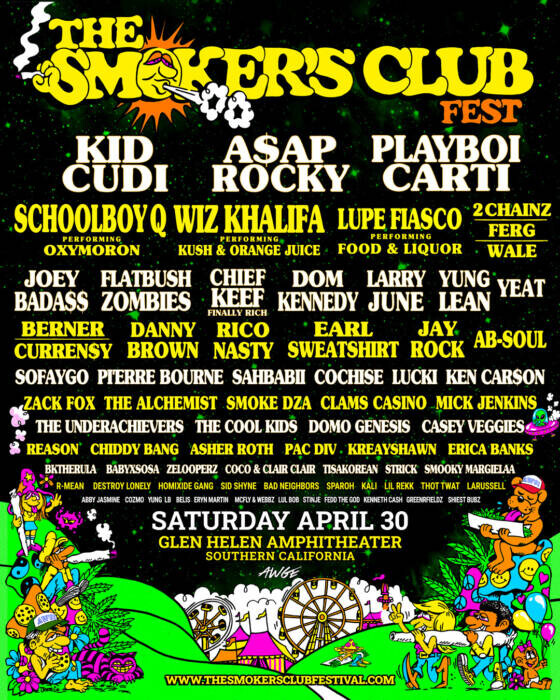 As if the lineup wasn't stacked already, The Smokers Club Fest continues to give the people what they want by adding Chief Keef who will be performing his debut album "Finally Rich". This festival already perfectly encapsulated the much-lauded "Blog Era" of rap which took place from 2008-2014, but now has the final infinity stone inserted into the gauntlet in the form of Sosa.
The Smoker's Club Fest takes over Glen Helen Amphitheater on Saturday, April 30, 2022. Celebrating hip hop as one of the leading forces in paving the way for cannabis culture becoming mainstream, the festival lineup includes Kid Cudi, A$AP Rocky, Playboi Carti, Schoolboy Q, Wiz Khalifa, A&AP Ferg, 2 Chainz, Dom Kennedy, Lupe Fiasco, Joey Bada$$, Flatbush Zombies, Yung Lean, Wale, Curren$y, Danny Brown, Rico Nasty, Earl Sweatshirt, Sofaygo, Pierre Bourne, Sahbabii, Cochise, Lucki, Yeat, AB-Soul, Jay Rock, Berner, Zack Fox, The Alchemist, Clams Casino, Mick Jenkins, Reason, Smoke DZA, Casey Veggies, Domo Genesis, The Underachievers, The Cool Kids, Kirko Bangz, Pac Div, Kreayshawn, Ken Car$on, Bktherula, Babyxsosa, Zeelooperz, Coco & Clair Clair, Tisakorean, Destroy Lonely, Sid, Shyne, Bad Neighbors, Sparoh Homicide, Meechie, Abby, Jasmine, Belis, Eryn, Yayo, Dacartune, Slayter, Nymlo, McFly, Lul Bob, and Stinje.
Follow the Smoker's Club Fest on Facebook, Instagram, and Twitter
© 2022, Seth Barmash. All rights reserved.