For ten years, Jake McGrady has sat down, turned on his microphone, and welcomed back listeners to his show. The 2nd String Show, originally a radio show at Oregon State, blossomed into a staple of Portland culture and has now turned into a rising podcast that covers the different lifestyles of each host, pop culture, the music industry, and a multitude of guests. 
"It all started my Freshman year of college," McGrady says. "I was in a sports media class and I really wanted to get involved with KBVR 88.7fm, the radio network at Oregon State. I started as an intern on another sports show, and after two terms, I knew I wanted to have my own weekly show." Due to minor interest in broadcasting at Oregon State, McGrady was able to secure a weekly Friday morning radio segment. Next came the name. "The very first name when we were brainstorming ideas was 2nd String Sports."
After starting in student radio at 18 years old, McGrady decided to launch his own sports radio show with his college buddies, which began a partnership that has prevailed to this day. After 4 years, memorable interviews, and countless early mornings on-air, the trio graduated. Jake and his co-hosts were dedicated to continuing their success at Oregon State, so 2nd String continued post-college as a podcast that can now be found on all streaming platforms.
The catchy alliteration of 2nd String Sports Show stuck. "2nd String is a tribute to the second-string quarterback sitting on the bench, talking with the second string running back," McGrady says. "You're not playing, you're just observing." This mentality has translated into an incomparable podcast. "We like to go on tangents and break into things that people normally wouldn't get into because it's unique". 
However, Jake decided to drop the "sports" part from the name due to business interests for the podcast moving forward. "We exclusively talked about sports when we were in college, but as you evolve and try to get bigger guests, having sports in the title scares away guests who don't want to talk about sports. When we renamed it the 2nd String Show, it better aligned with the timeline of the show". McGrady adds: "While we will always talk about sports and our podcast will always have sports in it, we realized that we equally talked about pop culture, life, etc."
Their show has caught the attention of mainstream media, with guests like Grammy Award-winning Portugal. the Man, Portland Trail Blazer star Anfernee Simons, NBA veteran Meyers Leonard, Grammy-nominated rapper/singer iLoveMakonnen, and music industry photographer and social media personality Jake Chamseddine. The podcast has even attracted Budweiser as the show's first major sponsor.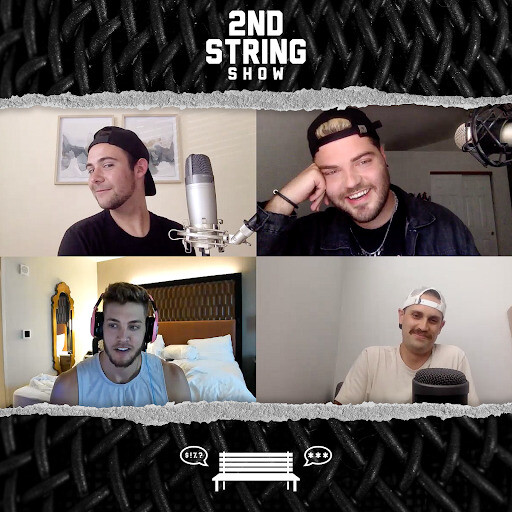 McGrady also went on to become a television host on NBC Sports Northwest. "In 2018, NBC Sports NW reached out to me about co-hosting 'Blazers Outsiders,'" says McGrady. The network was aware of his online persona, "Mr. Portland," where he creates original content, graphics, memes and more. "They wanted to utilize my personality and fanbase on the screen. That was a dream come true. At this point, it is what most people know me as, and it continues to be the most effective way to market the podcast and our Seven Seven clothing brand." The Seven Seven, named after the Portland Trail Blazers' lone championship year, has been worn by SportsCenter host Neil Everett, musicians, collegiate and professional athletes, media personalities and more. The brand even caught the attention of Trail Blazers All-Star Damian Lillard, who collaborated with them on a collection for one of his Dame D.O.L.L.A albums. They have continued to drop collaborative pieces, most recently with Gary Payton II of the Golden State Warriors.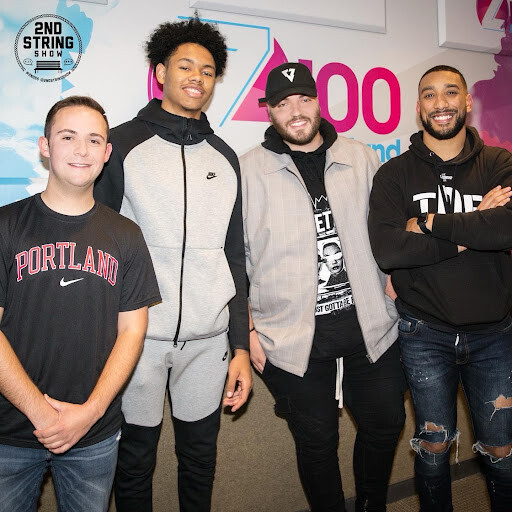 Due to the growing popularity of the show, it is no surprise that listeners have begun to tune in from various countries. "The most rewarding things for me are the small things like getting messages from recurring listeners both in the US and all over the world," McGrady says. "The craziest part to me is there are people who actually care and want to listen to us, that to me blows my mind. There are people who went as us for Halloween. If you told me in college that in five years someone's gonna be you for Halloween I wouldn't have believed it."
The 2nd String Show has grown into one of Portland's most beloved podcasts, its audience growing daily. To quote their old introduction song, "2nd String but we don't ever sit the bench, rising stars of the radio now watch as we ascend." Ascend they did, and continue to ascend they will. 
You can listen to the 2nd String Show now on Spotify, Soundcloud, and Apple Podcasts. Subscribe to them on YouTube for interviews and original video content. 
© 2022, Staff. All rights reserved.