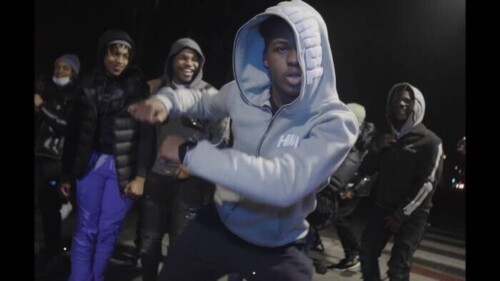 Philly, Jersey, and Baltimore have deep roots in club music. Historically house music was influential in the midwest with the east coast taking that bounce, speeding it up, and putting a fresh twist on club music. Jersey Club originally named "Brick City Club" was a fast and aggressive style of dance music that took its roots from the Baltimore scene but then exploded in the early 2000's around Newark, New Jersey. It was pioneered by DJ Tameil and other members of the Brick Bandits crew, who were inspired by Baltimore club's hybrid of house and hip hop. Other young producers also pushed for the progression of this style of music in the late 2000s.
This style of music is defined by its fast, "bouncy" groove at tempos near 130–140 BPM and its use of chopped samples and heavy kick drum patterns. The style often consists of remixes of Hip Hop and R & B songs. It is often accompanied by competitive dances which have gained global popularity through viral videos. Producers make use of "big kick drum triplets and vocal clips that call out dances, or chopped samples from top rap and hip hop tracks. It lands somewhere between New York's vogue and Chicago's juke with a little bit of that nasty from Miami bass. DJ Sliink summarized it as "a more urban take to dance music with chopped vocals and breaks".
Around 2007, Philadelphia began developing its own club scene influenced by the Jersey style and the genre began receiving airplay on major rap and R&B radio stations. It spread to clubs and the scene expanded into competitive dancing and battling became a central element inspired by DJ Fresh's "Get Silly". Tim Dolla produced a hit track called "Swing Dat" in reference to the popular dance move, and subsequent dance tracks like DJ Fresh's "Get Silly" and Jayhood's "Patty Cake" and DJ Tone Dafire Marshal's "She Gotta Donkey" & "Get Downtown" went viral.
DJ Diamond Kuts took this sound from the clubs and made it a staple on Philly area radio with viral songs from this genre starting to hit the charts. In the past couple of years, we have heard and seen an influx of songs in this style mashed up with other vocal elements. Artists of all genres from rap, R&B, trap, drill, and pop music have infused the Philly Club rhythm into its production.
Late last year DJ Crazy along with Zahsosaa and Dsturdy dropped the first of the new Philly Club anthems called "Shake That". The song infused elements of drill music with homage to classic Baltimore and Jersey Club records making this song a new vibe and a smash hit with almost 15 million youtube views and countless social media posts featuring the dances that accompany the song.
Since the release of this anthem, Philadelphia has exploded with new talent turning this "craze' into a "movement". This new energy was needed in the hip-hop scene and even major artists like Drake, Tyga, and Lil Durk have begun to hop on the wave. Featured below the jump is a selection of some amazing new talent breaking barriers with the Philly Club sound.
© 2022, Seth "Digital Crates" Barmash. All rights reserved.