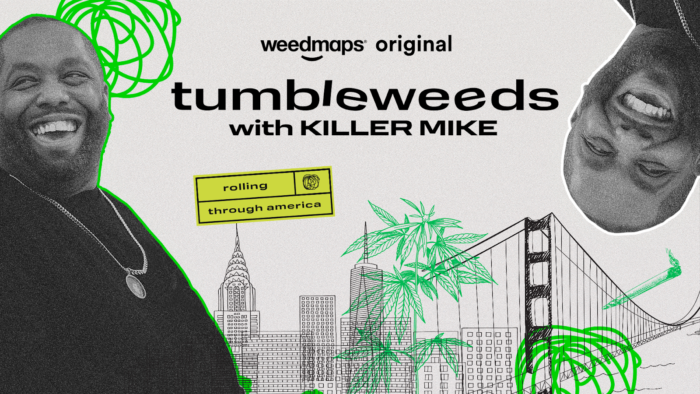 WM Technology, Inc. ("WM Technology" or the "Company") (Nasdaq: MAPS) and Weedmaps, the leading online marketplace and premier destination for cannabis consumers, announced the forthcoming premiere of the Company's new, original cannabis-centric docuseries, Tumbleweeds with Killer Mike. Hosted by rapper and activist Killer Mike, the series was produced by Wheelhouse DNA and Wheelhouse Labs and distributed through VICE Media Group. The first two episodes of the four-part series will air on VICE TV on April 20 – a day to celebrate the impact and evolution of cannabis culture in America – starting at 10 P.M ET.
Touring four cities that are central to cannabis culture – Las Vegas, San Francisco, New York, and Chicago – Killer Mike brings viewers along as he visits each city to show how the power of entertainment, cannabis, and inclusivity can build community. Throughout the series, Killer Mike will sit down with comedians such as Jocelyn Chia, Napoleon Emil, and Ngaio Bealum, along with American artist and hip hop pioneer, Fab 5 Freddy, and cannabis advocate and Veteran, Cherissa Jackson (who works with AMVETS). Together they visit cannabis dispensaries including RISE and Stiiizy, restaurants and clothing stores such as Cafe Cannal, Outta Sight Pizza, and Extra Butter to name a few, as the docuseries explores individual stories and experiences first-hand. 
Tumbleweeds with Killer Mike challenges existing perceptions of cannabis, further normalizing the industry and showcasing what the plant has done and will continue to do for communities. Each episode will look at the characteristics that define a city's identity, allowing for a better understanding of how cannabis intersects with culture.
"As the original online marketplace for cannabis consumers and businesses, we have always been committed to elevating voices that power the cannabis community, drive social equity, and further legalization," said Juanjo Feijoo, CMO and COO of Weedmaps. "The intersection of comedy, local culture and cannabis is a natural fit as all are driven by shared values of creativity, discovery and connection."
In addition, dropping on 4/20, Weedmaps will offer access to exclusive, bonus content through its mobile app for the duration of the series. Through this in-app experience, users will be able to learn more about the businesses in each episode, shop for products available in their area, and support AMVETS by making a donation on their site.
"Tumbleweeds has been a fun show to be a part of. Getting a chance to smoke a plant my mom and I love, hang out and laugh with hilarious comedians, all while frequenting local businesses and art installations – you'll never hear me complain about my job!" said Killer Mike, host of Tumbleweeds with Killer Mike.
Tumbleweeds with Killer Mike will roll out beginning on 4/20, with the first two episodes featuring Las Vegas and San Francisco, respectively, followed by New York on 5/1, Chicago on 5/8 and a marathon of all four episodes on 5/15. The series will be available via VICE's integrated platforms including VICE TV and VICE TV streaming apps. 
Tumbleweeds with Killer Mike is created in partnership with Weedmaps and Wheelhouse, and produced by Wheelhouse DNA and Wheelhouse Labs. Wheelhouse DNA creates and produces content for platforms from creators across the digital landscape; Wheelhouse Labs is the full-service integrated marketing and creative lab that serves as Weedmaps' Entertainment Marketing AOR.
For more information, please visit www.weedmaps.com or check out the trailer on YouTube HERE.
© 2022, Seth "Digital Crates" Barmash. All rights reserved.