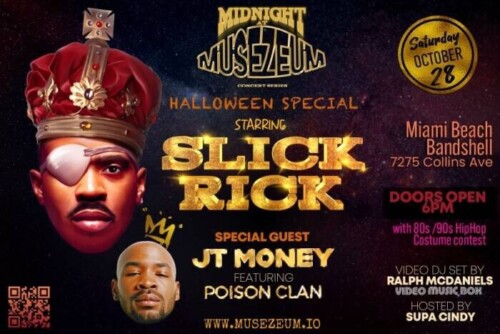 Fresh off The Breakfast Club interview on Power 105.1, Salaam Remi announces Slick Rick as the next headliner of the Midnight at MuseZeuM concert series in Miami, FL on October 28th, 2023 at Miami Beach Bandshell.  JT Money featuring Poison Clan and a video dj set by Video Music Box's Ralph McDaniels will also be featured at the Halloween Themed Event. Rakim, Big Daddy Kane, and Large Professor recently participated in the series. 
Also in Miami, Bruhman hosted MuseZeum Season 2 in early August. The collection featured pieces by Remi, Tati Crooks, Ernie Panicolli and Ryan "Myagi" Evans and more. 
Remi also extends the  MuseZeuM NYC Pop-Up, to run through September 30th. The collection, curated by Remi, will be on display at Legacy NYC – 98 Orchard St in Manhattan.  Attendees will experience physical exhibits featuring a musical art collection curated by Remi himself. The collection includes several of his own pieces that are being shown for the first time. The collection includes art that has creative approval and financial participation by Bob Marley, Nas, Marvin Gaye, Slick Rick, Fab 5 Freddy, Amy Winehouse, Celia Cruz , Dennis Brown, Rakim, Betty Wright and more. 
Guests of MuseZeuM(NYC) will be able to experience one of a kind art from some of the greatest and most influential artists of all time. They will be able to purchase unique authenticated merchandise. Remi said, "As a lifelong creative, The expansion of the mediums I express my passion through has expanded over the past couple of years. MuSeZeuM is an ecosystem where artists and creatives can share their works with lovers of art and culture. We look forward to having many more join us on this journey to expanding the ways we experience what we love."
The PopUp's last night – September 30th – will also be a celebration of the 10th anniversary of Mack Wild's Grammy Nominated New York: A Love Story which Remi produced. Wilds and more will be in attendance with a new Art Piece accompanied by Special Anniversary Merchandise. 
The MuseZeuM PopUP  will be open to the public:
Dates: July 4th – September 30th
Address: Legacy NYC – 98 Orchard St, New York, NY 10002
Hours: 11am -10pm
© 2023, Seth "Digital Crates" Barmash. All rights reserved.