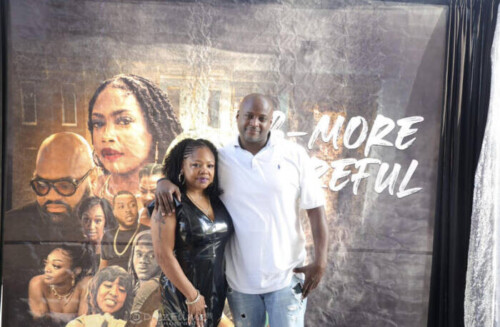 "Be More Careful" the novel, is ranked as one of the top page turners in urban literature. Hailing from the infamous street title, "Be More Careful", this viral book authored by Shannon Holmes, has just been produced into a featured film.
Partnering with Entrepreneur, Roberta James, she and Holmes formed SR Filmworks to house this highly anticipated movie and the rest is history. The two teamed up to bring Holmes' hot book to life and it is now available for everyone's viewing pleasure.
With a crew of up & coming actors such as Tarence "Fish" Brown, Phenomenal Jewel, and Greg Brown along with established talent such as Rapper Chi Ali the cast combo really kicked things up a notch. "This short film captivates and keeps the audience's attention from beginning to end", states Executive Producer, Roberta James who emerged all smiles following the star studded premier at Magic Johnson's AMC Theatre in Harlem.
"Roberta and Shannon did a phenomenal job at producing the film to make it identical to the book", states Publicist Lynn Hobson.
"Be More Careful", a film about a group of women who use sex to control the streets of Baltimore, will have you on the edge of your sofa—as it may be watched on Amazon Prime.
To keep up with Roberta, Shannon, and/or any of the film's cast members, follow them at @BMoreCarefulFilm .
© 2023, Seth "Digital Crates" Barmash. All rights reserved.