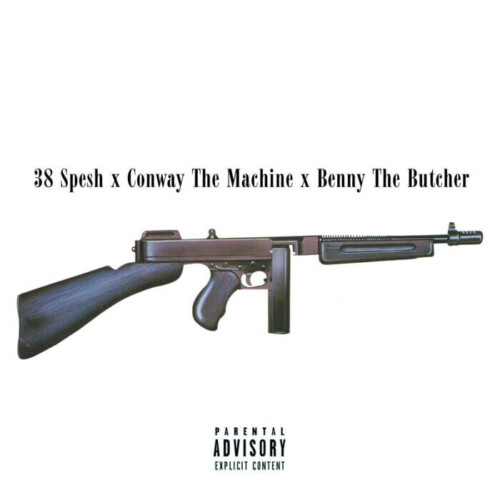 Aligned with a similar set of core values, T.C.F. and Griselda have long maintained a mutual respect and prosperous working relationship with one another.
38 Spesh is coming off perhaps his biggest year ever in 2022, as he released fan favorites 7 Shots (which was highlighted by Kevin Durant as one of his top 5 albums of 2022 and even named Spesh his favorite rapper) and Beyond Belief with Harry Fraud.
Conway The Machine followed up his Shady Records major label debut, God Don't Make Mistakes, with his recently released solo album, Won't He Do It, and Drumwork's first official label compilation Conway The Machine Presents: Drumwork The Album; on which Spesh & Conway provided a foreshadowing of things to come with "Lalo."
After announcing their collaborative album, Speshal Machinery, with "Latex Gloves" featuring Lloyd Banks, Spesh and Conway are back with the project's second single "Goodfellas" which features Benny The Butcher.
Musically adjacent for nearly a decade now, "Goodfellas" furthers the chemistry that Spesh, Conway, and Benny have previously exhibited on "Three Missiles" (from Benny's My First Brick), "Band Of Brothers" (from Spesh & Harry Fraud's Beyond Belief), and past joint projects Stabbed & Shot & Trust The Sopranos.
"Everybody knows that Benny and I go way back, but me and Con have been down forever too" 38 Spesh reveals.  "Trust and Griselda have been the biggest names in upstate for years, but now we're some of the biggest names in the game—period!"
38 Spesh & Conway The Machine's Speshal Machinery will be released on 9-8-23 via T.C.F. Music Group.
© 2023, Seth "Digital Crates" Barmash. All rights reserved.