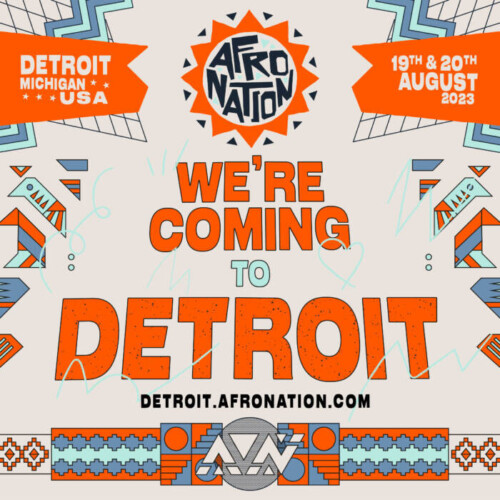 Afro Nation is the world's biggest celebration of African music and entertainment, aiming to unite the African diaspora with exuberant events featuring music's biggest stars. This year, Afro Nation announces that it will make its debut in one of the most significant cities in the history of Black music with Afro Nation Detroit 2023. The second Afro Nation festival to take place in the continental United States promises performances from the biggest names in Afrobeats and superstars in Hip-Hop, R&B, Amapiano, Dancehall, Reggae, and other African, Afro-Caribbean, and African-American musical genres. Presented in partnership with Bedrock, a Detroit-based company, Afro Nation Detroit 2023 arrives on August 19th-20th, 2023 at Bedrock's Douglass Site in Detroit, Michigan.
Expected to draw tens of thousands of attendees each day from around the globe, Afro Nation Detroit 2023 will feature additional activations and events to honor Detroit's musical contributions to the world and highlight its connection to present day American, African, and global Black culture and music. Afro Nation hopes to continue a tradition that has encompassed the heyday of Motown in the 1960s, the birth of techno in the 1980s, today's flourishing hip-hop scene, and much more.
The festival offers an opportunity to celebrate the resilience and enduring legacy and to connect with Detroit's vibrant music and artistic communities.The Douglass site is a historically significant housing project in Detroit that was the first federally funded housing project for African Americans in the United States. It was home to icons such as Diana Ross, Smokey Robinson, and other influential African Americans.
The biggest Afrobeats festival in the world, Afro Nation has successfully executed festivals in Portugal, Ghana, and Puerto Rico, and is preparing for its first festival in Miami this month. Afro Nation Miami 2023 is the first Afro Nation event in the United States, highlighting the best in Afrobeats, dancehall, hip-hop, amapiano, and other Black-led musical genres. Headlined by Afrobeats giants Burna Boy and WizKid, and featuring a powerful lineup of artists from Africa, the Caribbean, and across the globe, Afro Nation Miami touches down at LoanDepot Park on May 27 & 28, 2023.
The upcoming Afro Nation Detroit and Afro Nation Miami follow up a groundbreaking 2022 from Afro Nation, which has established itself as a major tastemaker and advocate for African music since its founding in 2019. Afro Nation brought a high-powered group of international music stars and over 40,000 fans to the beaches of Portimáo in July for the second-ever Afro Nation Portugal, with headliners that included WizKid, Burna Boy, and Megan Thee Stallion. Earlier in the year, the innovative festival made its North American debut with Afro Nation Puerto Rico. The festival closed out 2022 with Afro Nation Ghana 2022 in Accra, Afro Nation's first event in Ghana since 2019.
Afro Nation festivals are dedicated to providing a global platform for music from Africa and its diaspora. In addition, Afro Nation teams with BBC Radio 1xtra and the Official Charts Company to host a weekly UK Afrobeats Chart Show, and in 2022, Afro Nation partnered with Billboard to present the first-ever U.S. Afrobeats Chart.
With more milestones to cross and many unforgettable sets in the near future, Afro Nation is primed to shine an even brighter spotlight on some of the most exciting artists in music today.
© 2023, Seth "Digital Crates" Barmash. All rights reserved.