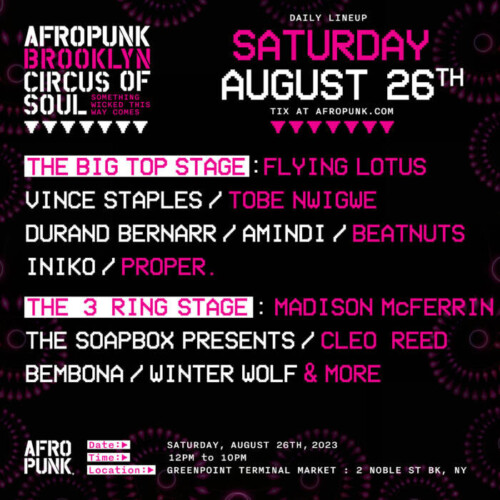 AFROPUNK announces the daily lineup for AFROPUNK BROOKLYN 2023, happening on August 26th and August 27th.
On Saturday, August 26th, attendees will experience an eclectic mix with headliner Flying Lotus and performances from Vince Staples, Tobe Nwigwe, Madison McFerrin, Cleo Reed, and more!
Sunday, August 27th will kick off with performances from Joey Bada$$, Sudan Archives, Baby Tate, Dreamer Isioma, and more, concluding with the incomparable Jazmine Sullivan.
AFROPUNK BROOKLYN 2023 continues a nearly-20-year tradition in AFROPUNK's home borough. This year, AFROPUNK moves to a brand new venue: Greenpoint Terminal Market. Located on the banks of the East River, with unbeatable views of the Manhattan skyline, Greenpoint Terminal Market provides a picturesque location for the performances and trademark AFROPUNK activations, including the Spinthrift Market and AFROPUNK's Bites 'n Beats. AFROPUNK plans to transform the space, adding lawns, trees, and other shade structures to allow for a soothing and soulful day outside. . This year's Brooklyn event will introduce a new theme–CIRCUS OF SOUL–transforming the riverside blacktop into a carnivalesque exhibition that spotlights all aspects of Black creativity, soundtracked by music that speaks to the heart of the Black experience. Expect many more activations, showcasing the artistry of local vendors and more, to be announced soon.
View the full two-day schedule below:
SATURDAY 8/26:
The Big Top Stage:
Flying Lotus
Vince Staples
Tobe Nwigwe
Durand Benarr
Amindi
Beatnuts
Iniko
Proper
The 3 Ring Stage:
Madison McFerrin
The Soapbox Presents
Cleo Reed
Bembona
Winter Wolf
SUNDAY 8/27:
The Big Top Stage:
Jazmine Sullivan
Joey Bada$$
Baby Tate
Sudan Archives
Enny
Rahzel & Friends
Jack Freeman
Dawer X Damper
UNIITY
The 3 Ring Stage:
Akwaeke
Dreamer Isioma
DBN GOGO
The Rack
AFROPUNK is more than just an event, it's a celebration of life, music, food, and culture in the Black community. AFROPUNK has established a legacy as a safe space for Black alternative culture, offering a haven for attendees to show up as their most authentic selves. The end result of which is always a stunning community of people who respect, admire, and care for one another; it's an experience unlike any other. Brooklyn is AFROPUNK's home–where it started in 2004–reliably turning out the most creative individuals in the borough to dress up and turn up.
With AFROPUNK BROOKLYN 2023 on the calendar and more announcements to come, AFROPUNK is one of the most vital and vibrant cultural institutions in New York City and beyond.
To purchase tickets for this year's two-day event and to stay up-to-date about AFROPUNK BROOKLYN 2023, please join our text community, sign-up for our newsletter and visit: afropunk.com
Stay Connected! Text "AFROPUNK" to (718) 550-6268 to join our Community for festival updates, exclusive announcements, and more.
To purchase 2-day and single-day tickets for this year's event, please visit: here.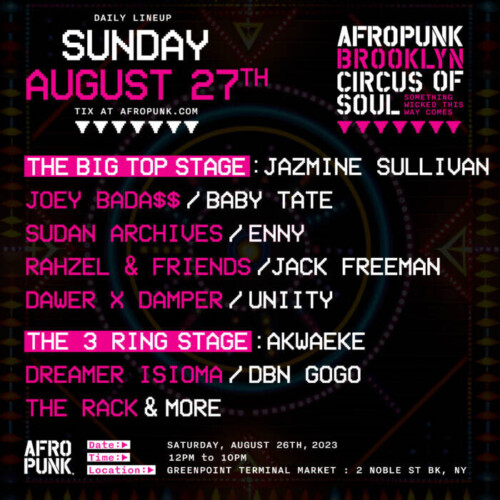 © 2023, Seth "Digital Crates" Barmash. All rights reserved.