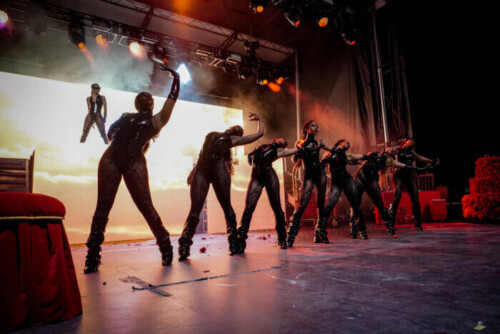 Photo Credit AFROPUNK / @AJXLV
A celebration of life, music, food, culture, and community, AFROPUNK has been a safe space for Black alternative culture for nearly 20 years. This weekend, the festival returns to its home borough of Brooklyn, but with a twist: AFROPUNK BROOKLYN 2023 is the first edition of the festival at, Greenpoint Terminal Market. On Saturday, AFROPUNK made its mark on the picturesque new location, transforming the waterfront into a "Circus of Soul," complete with two stages, markets for local vendors, and plenty of incredible views of the skyline. As always, AFROPUNK brought unbeatable vibes, with the city's freshest fits, and some exceptional performances.
The first day of AFROPUNK Brooklyn was a celebratory affair, headlined by Flying Lotus, who closed the night with cosmic jazz hits from his acclaimed Yasuke album and more. The day featured a hip-hop heavy slate, as the genre continues to celebrate its 50th birthday, featuring performances from stars like Vince Staples and NYC rap icons Beatnuts. Decked out in his signature green garb, Toby Nwigwe brought out EARTHGANG star Olu (aka Johnny Venus). Acclaimed jazz singer Madison McFerrin, R&B riser Durand Bernarr, and many more also graced the AFROPUNK stage, shining as bright as the city lights behind them as the day turned to night. On top of the impressive sets, AFROPUNK celebrated the local Black community, serving hungry fans at AFROPUNK's Bites 'N Beats and supporting merchants who sold handmade projects at the Spinthrift Market.
Always a spotlight of all aspects of Black creativity, AFROPUNK Brooklyn brings an atmosphere unlike any other. Sunday brought another action-packed day at the festival's new location at Greenpoint Terminal Market, which was completely transformed into a haven of acceptance and positivity. Fans showed up in their finest fits to see superstars like the graceful Teyana Taylor who put on a show packed full of her biggest hits, including "How You Want It," "Wake Up Love" and "Rose in Harlem." Teyana came out of retirement to perform for the diverse and vibrant crowd, delivering a lovely speech about the special occasion. Her last set before the iconic singer, actress, and dancer steps back into retirement from performing, Teyana's headlining set was a family affair, as she brought out her husband, former New York Knicks player Iman Shumpert, and her two daughters, who showed off their own charisma and talent.
Beyond Teyana, the festival offered an eclectic array of artists to entertain the Brooklyn crowd. The crowd lit up when hometown hero Joey Bada$$, who grew up a few stops down the G Train in Bed-Stuy, delivered a stunning sunset set with the NYC skyline behind him. Before the stars came out at night, AFROPUNK brought incredible performances from Baby Tate, Sudan Archives, Dreamer Isioma, DBN Gogo, and more. Between sets, local DJs, DJ Mahogany and DJ SNS kept the energy going as the night went on, playing the streets' hottest tracks.
Beyond the music, AFROPUNK provided a space for all kinds of local creatives to showcase their wares. The Spinthrift Market was bustling, as fans relished the opportunity to buy handmade goods from local artisans. AFROPUNK's Bites 'N Beats offered delectable eats from Black-owned food trucks and restaurants from NYC, with options ranging from Caribbean to Nigerian to Soul Food, and more. AT&T, Lush Cosmetics, and All Ways Black also hosted their own activations on site, celebrating the individuality of every attendee and the ways they come together to create the AFROPUNK family.
AFROPUNK is more than just an event, it's a celebration of life, music, food, and culture in the Black community. AFROPUNK BROOKLYN 2023 continues the brand's legacy as a safe space for Black alternative culture, offering a haven for attendees to show up as their most authentic selves. With a triumphant debut at its new location, the festival continue to inspire some of the most creative and fresh individuals in the borough and beyond to turn up in all their glory. Continuing a tradition that has lasted nearly 20 years, AFROPUNK Brooklyn will remain the most celebratory and accepting event of the year, spreading love and positivity like it always does.
© 2023, Seth "Digital Crates" Barmash. All rights reserved.