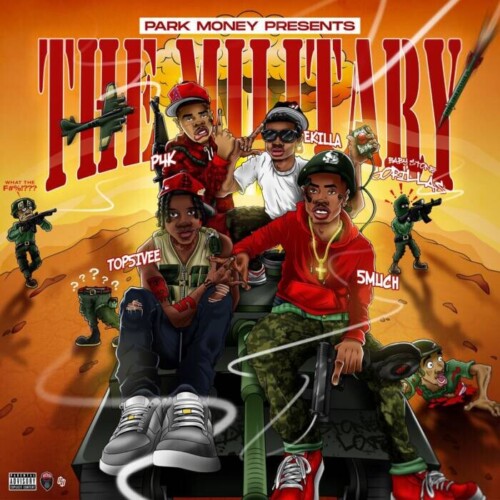 Serving sizzling slices of funked-up L.A. street rap straight from the Baldwin Village jungles, Baby Stone Gorillas are their city's hottest rap crew. Mounting up for a 23-track effort that bursts with inventive chemistry and fresh styles, the four-man group shares The Military, their second full-length mixtape. The new mixtape refines the group's hard-hitting West Coast sound, its glossy textures, funk-forward rhythms, and boosted bass adding emphasis to quartet's raw lyricism. The only voices you'll hear on the album belong to the Gorillas themselves–who shoulder the full trackload without outside features–allowing plenty of opportunity for each of the four rappers to show off their distinct styles.
Sparkplug EKillaOffDaBlocck lights tracks aflame with his energetic, snarling delivery; Top5ivee brings his effortlessly cool flow and devious wordplay; P4K's syllable-rich, laid-back bars draw from L.A.'s rich street rap tradition; and 5Much uses the opportunity to show off his distinctive flow and unconventional melodies, taking the lead on hooks for songs like the recent single "WOP." The new mixtape is home to the recent single "Block Benders," plus new highlights like mischievous, piano-led "Slide On Em," the provocative and infectious "We Love Opp Hoes," and the luscious "Koldest Addiction." With production from West Coast mainstays like RonRonTheProducer, Juneonnabeat, and more, The Military is available everywhere via Park Money Records / EMPIRE.
The four members of Baby Stone Gorillas have known each other since they were 10-years-old, and were friends far before they dreamed of music stardom. The rappers have distinct styles and roles: 5Much brings a hustler's mentality and vents about his life, while EK packs the energy. P4K is the proud instigator known for slick-talking raps, while Top5ivee often comes up with B.S.G.'s catchy hooks. In 2021, the group's self-titled video racked up views in the millions, precipitating a winning streak of viral singles that included the Pitchfork–approved "Military," which earned airplay on Drake's OVOSound Radio, and "Untouchable" ft. RJMrLA, catching the attention of Shaquille O'Neal. The group made a major impact with their debut mixtape BABYST5XNE GORILLAS, released in March 2022, which earned praise from Pitchfork, SPIN, Audiomack, and many others, and featured "Keep Goin," which The Los Angeles Times named one of the 100 Best Songs of 2022.
With The Military available everywhere and more mixtapes ready to go, the Baby Stone Gorillas are on a mission to prove they're the realest in L.A. Stay tuned for much more.
© 2023, Seth "Digital Crates" Barmash. All rights reserved.