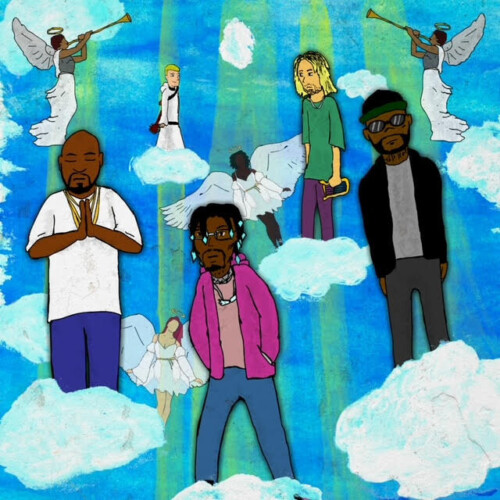 For the past few years, Brady Watt has been releasing music and content that continuously highlights his virtuosic gifts, musicianship, and diversity. The ease with which Brady can deftly pivot from producing Jack Harlow's hit-single, "Same Guy," featuring Maroon 5's Adam Levine (which was further punctuated when both artists performed the song on Saturday Night Live), to cutting-edge boom bap, "Narcissist," featuring Westside Gunn and DJ Premier, to "Nobody Home," which featured the rhythm sections of Rage Against The Machine and Metallica, and two trend-setting and legendary musical icons in Brad Wilk & Robert Trujillo, and most recently his work, "Endless," (which he co-produced with DJ Premier) with fledgling breakout star BLP Kosher, and "Without You" featuring Talib Kweli & Conway The Machine; all display Brady's innate ability to create music that not only uplifts the artists he collaborates with, but also blurs genres—while managing to stand out in them comfortably.
Similarly, Brady's groundbreaking "Bass & Bars" series, continues to attract icons (some of his latest guests include Styles P, Havoc, Erick Sermon, Freeway & DMC), and after an impromptu "Sunday Service" performance with Marc Rebillet went viral and generated so much positive adulation, Brady Watt, DJ Premier, and Marc Rebillet headlined a sold-out show in Central Park together last summer.   After recently finishing up the first leg as the opener for blues and guitar legend Gary Clark, JR's tour, Brady will bring Bass & Bars on the road to Boston (Middle East) on 9-21-23, for a not-to-be-missed live performance which will also include appearances from some very esteemed guests.  Tickets for Brady's Bass & Bars performance in Boston on 9-21-23 are now on sale.
Now, on the heels of his last self-produced single, "Without You," which featured Talib Kweli and Conway The Machine, Brady is back with a new single, "Angels Will Fly," and it features another all-star lineup of Sauce Walka, Royce 5'9', and Bun B.  "Angels Will Fly" is now available at all DSP's.
"Angels Will Fly" is a 3:13 Rap Fantasy Epoch featuring some of the best writers of our generation.  The narrators (Royce, Sauce, and Bun B) each depict different scenarios where short lapses in judgment lead to lifelong consequences" Brady offers. 
"My goal was to create a Rap composition like no one has ever heard. The blend of styles, instrumentation, the artist matchups; there is a lot of intention baked into this one. The song came together piece by piece. I've actually been working on it for about 2 years. It's seen many different hooks, verses, arrangements, and drum patterns, and I'm really happy with where it landed."
"Sauce Walka really set the tone with his verse, and it all fell right into place. Sauce is an incredible artist, when we were in the studio recording this he played my bass for an hour. We talked about Rick James. I gave him some instruction and even taught him the "Angels Will Fly" bassline and he got it. I actually sent a bass guitar down to Houston for him" Brady Watt recalls.
"After Sauce burned his verse down I thought it fitting to pass it to Bun B next. He and I have been friends since our Bass & Bars Episode; and he's been an encouraging voice over the years. He piggybacked off Sauce Walka's story by adding a tale of his own which crescendos into me and a choir singing the "it's in your eyes" part.  Adding Royce at the end borders on absurd; undisputed legendary status on the track—I had to do it" declares Watt.  "It's really an honor to do this; and these artists push me to new heights.  Each single I have been releasing this year increases in magnitude, and I feel as if this is my best work yet as a producer—and I have a new bar to leap over moving forward!"
Brady Watt's new single, "Angels Will Fly," featuring Sauce Walka, Royce 5'9', & Bun B is now available at all DSP's.
© 2023, Seth "Digital Crates" Barmash. All rights reserved.