Many people credit their environment with shaping who they eventually become. M Dot Taylor is no exception. Except there's a twist—the rapper, singer, and songwriter credits not only his hometown of Detroit, a hub known for raw musical talent, for the evolution of his unique sound but also his time serving in the military. The result of this unusual combination is a bridging of worlds between extreme military discipline and musical passion.
As Taylor gets ready for his upcoming release, "Biggest Fan," the music world can expect a fusion of his unique life experiences. His sound, "Gangster Harmony," combines rap and singing and is a representation of Taylor's lifestyle and culture.
This lifestyle includes growing up in Detroit, where Taylor was surrounded by "stand-up hustlers." Their philosophy was simple: "If you don't work, you don't eat; you don't grind, you don't shine." This relentless work ethic was deeply instilled in him from a young age, especially by his parents and grandparents.
In fact, Taylor credits his parents and grandparents as being the most inspirational figures in his life. "My biggest influences were my parents/grandparents before they passed away. They always kept it a buck with me and prepared me at a very young age to be a leader and to be there for my youth."
Taylor's time serving in the U.S. Navy would be a profound influence on him. "Serving in the Navy made me the person I am today," Taylor asserts. "It gave me an incredible sense of time management and organization. I'm able to organize my days and plan properly. I'm also a master at thinking critically and team building."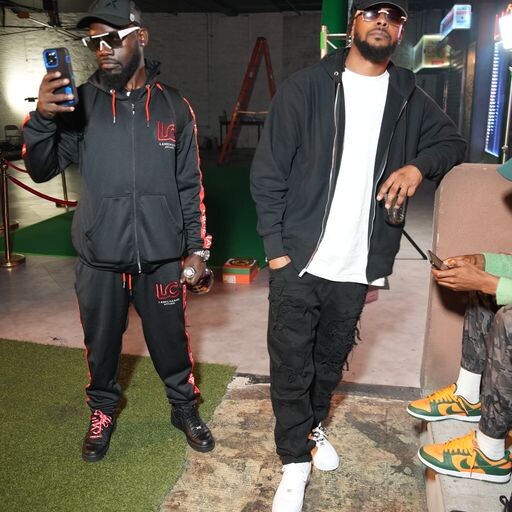 However, what was entirely unplanned was the origin of his name. With five other sailors sharing the name Taylor and pay grade during his Navy tenure aboard the USS Harpers Ferry LSD 49, laundry became a mess of mistaken identities. His solution? A unique nametag that read 'M. Taylor.' This decision caught the attention of his chief, leading to the memorable moniker, M Dot Taylor. "Everyone laughed and started calling me M Dot or M Dot Taylor, so I just went with it," said Taylor.
What's no joke, though, is the growing buzz surrounding his collaboration on "Biggest Fan." M Dot's partnership with Zaytoven stands out as a significant highlight. This collaboration was more than just a musical connection. After receiving a custom track from Zaytoven that resonated with his vision, Taylor wasted no time heading to Atlanta. From there, it was a musical road trip to NYC to collaborate with the Dipset family. He fondly recalls the collaboration, "What I like about Jim, Maino, and Zaytoven is their connection to greatness and longevity. Their combined catalogs are astonishing."
"Biggest Fan" is a powerful reflection of his life philosophy. Through it, he hopes to convey a message: "It's okay to spoil the ones that adore you the most. Sometimes it's not about you. It's about paying it forward to those that ALWAYS hold you down."
As to M Dot Taylor's future? It's defined by one clear aim: "To make a better version of myself each and every day." And with his dedication and unique blend of experiences, there's no doubt Taylor is on a trajectory to do just that.
https://www.instagram.com/mdottaylor/https://open.spotify.com/album/22SFFx4Z7TmYx7BSGrDmqu
https://www.instagram.com/mdottaylor/https://open.spotify.com/album/22SFFx4Z7TmYx7BSGrDmqu
© 2023, Brxton. All rights reserved.