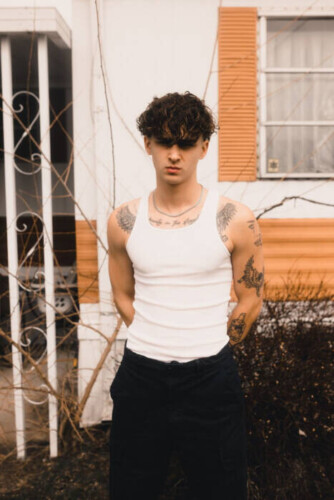 Processing his pain with heartfelt melodies, CNN Mikey represents Toledo, Ohio to the fullest. Today, the 21-year-old rapper announces his signing to ODA (Only Dreamers Achieve), the label founded by Polo G, in a joint venture with 25/7 Songs, the newly created label and publishing arm of LA based 25/7 Management (founders include Mike Maloian and Patrick MacDonald). Blessed with a tuneful, yet conversational delivery, Mikey's strong sense of storytelling about his life of struggle and the steps he takes to overcome endeared him to Polo. His serendipitous rise from abject poverty to potential rap stardom make him a perfect fit on Only Dreamers Achieve.
Growing up in South Toledo, Mikey bounced between trailer parks and public housing. His parents suffered from addiction issues–a topic that Mikey returns to in his music and on social media–meaning Mikey needed to grow up fast. He found solace in music as an outlet to exercise his demons, and his infectious and affecting songs quickly won hearts in his city's fledgling rap scene, and eventually Mikey moved to L.A. to pursue music full time. Mikey caught the attention of Polo G the old fashioned way–he spotted Polo with his brother Trench Baby at LAX, approached them and asked them to listen to his music. Though they were hesitant at first, Mikey convinced them to listen to one of his songs. The Capalot twosome were immediately hooked, and within six months, Mikey had a deal in place with ODA.
Mikey's new video single and ODA debut, "For My People," is an anthem dedicated to his family, friends, and supporters and showcase of the natural ability and engaging storytelling that endeared him to Polo G that fateful day at LAX. Produced by Major 7, JHURLY & Omar Grand, the song is blessed with spindly guitar melodies and thumping 808s that set the scene for Mikey's soul-baring bars. Switching between athletic flows on the verses and a bouncy, octave-leaping hook, Mikey is an open book. Towards the end of the song, the heavens open in the form of romantic violins and past despair transforms into hope for the future.
In the video, Mikey shines a spotlight on life in his Rust Belt hometown, examining his past and showing how people in Toledo live. Directed by Boomin Films, the video finds the young rapper traveling through his past in a red pickup, reflecting on his hard times and reveling in the support of his city's community. As high as he might rise in his career, CNN Mikey will never forget where he came from.
In an exclusive interview with HipHopSince1987.com CNN Mikey talks to Digital Crates about the buildup to this video single release. They talk about his creative process and go into details about his songwriting and recording methods. His sound perfectly represents his environment and upbringing. He is musically inclined and starting taking his craft seriously after high school recording demos while trying to recruit his current management team. He has a wide range of influences that fueled his passion to build a home recording set up and develop his sound. A chance meeting with Polo G led to some of the moves he is making including the release of his newest single and video "For My People".
With his new label deal and much more music on the way, CNN Mikey never takes an opportunity for granted. Expect big things from CNN Mikey in the near future.
© 2023, Seth "Digital Crates" Barmash. All rights reserved.